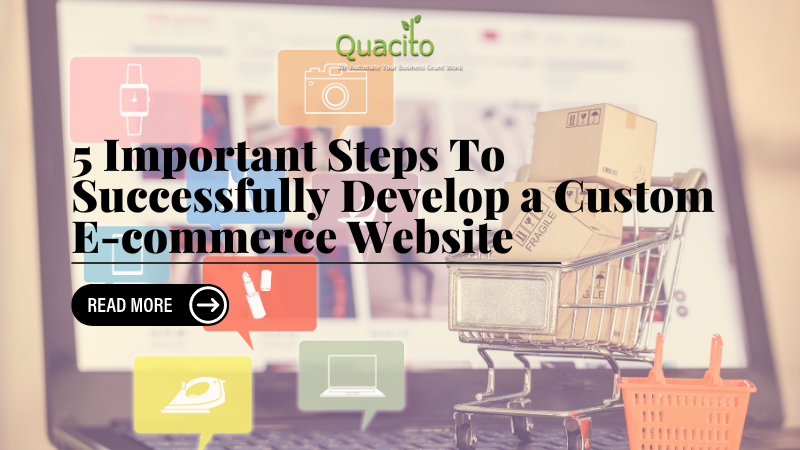 In today's rapidly evolving business landscape, a strong online presence is no longer an option but a necessity for everyone. Custom ecommerce websites have become the backbone of modern business strategies, allowing companies to tap into a global market and offer personalized experiences to their customers. The journey towards developing a successful custom ecommerce website entails a combination of strategic planning, innovative design, and flawless execution. In this blog, we will delve deeper into the crucial steps that pave the way for the triumphant creation of a custom ecommerce platform.
First Step: Defining Your Goals 
Before diving into the intricate process of custom software development as well as website designing services, it's imperative to have a well-defined set of goals and objectives. If you are aiming to drive higher online sales, enhance customer engagement, establish brand identity, or all of the above, then defining these goals will not only guide the development process but also determine the features, functionalities, as well as overall structure of your ecommerce website.
Understanding your target audience is equally essential at this stage. Conduct thorough market research to identify your potential customers' preferences, behaviors, and pain points. This information will be invaluable as you tailor your ecommerce platform to meet their needs.
Second Step: Engaging in Comprehensive Planning
The importance of meticulous planning and creating a roadmap for web designing cannot be overstated when it comes to custom ecommerce website development. During this phase, you will collaboratively create a roadmap that outlines every facet of your website. This includes deciding on the architecture, layout, features, and user pathways. Work closely with your development team to map out how your ecommerce platform will facilitate seamless navigation, intuitive product searches, and smooth transactions.
Moreover, the planning phase involves considering the scalability of your website. As your business grows, your website should be able to accommodate higher traffic volumes without compromising on speed or user experience. Investing time in this phase will set the tone for a successful development journey.
Third Step: Prioritizing User-Centric Design
Website designing services play a pivotal role in creating a visual identity that resonates with your brand and captivates your audience. An aesthetically pleasing design is just the tip of the iceberg. A user-centric design focuses on creating an intuitive and enjoyable experience for your visitors.
Collaborate closely with your chosen website designing services to create a design that aligns with your brand identity and values. From color schemes to typography and imagery, every element should evoke the essence of your business. Additionally, ensure that the design is responsive across all devices, guaranteeing a consistent and user-friendly experience for both desktop and mobile users.
Fourth Step: Implementing Robust Development
The development phase is where the magic happens. Collaborate closely with your development team to ensure that the custom software development aligns with the strategic planning you've laid out. Choose a reliable and best content management system (CMS) that empowers you to effortlessly manage your products, content, and customer data.
Ensure that your ecommerce website integrates essential functionalities such as a secure payment gateway, inventory management system, and customer account creation. Additionally, focus on optimizing loading speeds and security measures to build trust among your customers. Mobile responsiveness is no longer a luxury but a necessity, given the increasing number of shoppers using mobile devices.
Fifth Step: Rigorously Testing and Assuring Quality 
Before unveiling your custom ecommerce website to the world, it's crucial to subject it to rigorous testing and quality assurance processes. Thoroughly evaluate each aspect of your website, from product pages to checkout processes, to identify any glitches or usability issues. Conduct compatibility tests across different browsers and devices to ensure a consistent experience for all users.
Pay special attention to the functionality of payment gateways and security protocols. Customer data protection is paramount, and any vulnerabilities could severely damage your reputation and customer trust. User testing can provide invaluable feedback and insights into areas that may require refinement.
In the digital age, a custom ecommerce website serves as the gateway to your brand's online success. Custom software development and website designing services are integral to crafting an ecommerce platform that aligns with your business goals and delights your customers. By meticulously defining objectives, planning comprehensively, prioritizing user-centric design, implementing robust development, and conducting thorough testing, you can position your business for triumph in the competitive ecommerce landscape.
You need to remember that your business website is not a static entity. As technology continues to evolve, you should keep an eye on emerging trends as well as customer preferences. Regular updates and improvements will help your ecommerce website remain relevant and engaging, fostering long-term customer relationships and driving sustained growth.