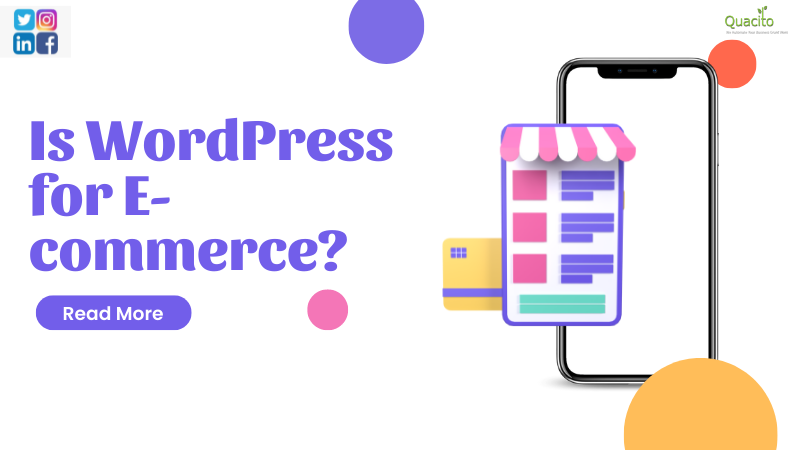 WordPress is a popular content management system (CMS) that enables businesses to create a website or blog without having to code everything from scratch. While WordPress is not typically thought of as an eCommerce platform, it can be used for online stores with the addition of plugins. 
In this post, we will explore the pros and cons of using WordPress for eCommerce web design and development. 
Pros of Using WordPress for Ecommerce 
There are many advantages of using WordPress to build your e-commerce store. WordPress is a popular content management system (CMS) that helps you easily create and manage your website. It's user-friendly and offers a variety of features and plugins to help you build a professional online store.
WordPress is free and open source. This means that there is no cost to download and use the software, and you can access the code to make customizations if needed. 

WordPress is easy to use, even for beginners. The backend dashboard is user-friendly, and you can quickly learn how to add pages, posts, products, and more. 

WordPress is highly customizable. With themes and

plugins

, you can change the look and feel of your website, as well as additional features and functionality. 

WordPress is SEO friendly. With the right plugin or theme, you can ensure that your website is optimized for search engine ranking. 

WordPress is responsive. This means that your website will look good on all devices, from desktop computers to mobile phones. 

WordPress has a large community of users, developers, and designers who can offer support and assistance if needed. 

WordPress is secure. The team behind WordPress regularly releases security updates to help keep your website safe from hackers. 

WordPress integrates with many different payment processors, making it easy to set up an online store. 

WordPress can be translated into different languages, making it a good choice for businesses with international customers or products/services. 

You can hire someone to manage your website if needed since there are many qualified experts available (including our team at

Quacito LLC

). 

E-commerce
Cons of Using WordPress for Ecommerce 
While there are many different plugins available depending on what features you need for your store (payment processing, shipping calculations, accounting integrations, etc., using too many plugins can slow down your website. 

Because WordPress was not originally designed for eCommerce, it does require a bit more workarounds to get certain features working correctly. However, our developers are experienced in building robust eCommerce solutions on top of WordPress, so this should not be a dealbreaker! 

If you don't have proper hosting, then your site could be prolonged. We recommend using WP Engine for optimal performance since they are purpose-built to run high-traffic WordPress sites.

Since WordPress is open source, anyone can create themes and plugins. This means that there are both good and bad options available, so you need to be careful about what you choose to use on your site. 

Unlike other platforms where you pay one monthly fee for everything including hosting, domain name, themes/plugins, etc with WordPress you will need to pay for those things separately. However, our

web design company in San Antonio

specializes in full-service digital marketing and we can help take care of everything for you so that you don't have to worry about it.
Final Thoughts!
Overall, we believe that WordPress is a great option for eCommerce web design and development due to both its pros and its cons! While you will need to buy additional services and plugins to turn your WordPress site into an online storefront and make sure that you don't use too many plugins which can slow down your site, the number of challenges can be easily overcome by working with the right partner! 
Our team at Quacito LLC has years of experience designing and developing eCommerce sites on top of the wp platform so we would love to chat with you about your project! Contact us today for a free consultation to see how we can help turn your vision into reality.
Are there alternatives to building an eCommerce website on WordPress?
There are a few different ways that you can go about building an eCommerce website. One popular option is to use WordPress as your platform. However, there are a few other options out there that you may want to consider as well.
Shopify is one popular alternative to WordPress. It's a hosted solution, which means that you don't have to worry about hosting your own website. Shopify also has a lot of built-in eCommerce features, which can make it easier to get started selling online.
Another option is Magento. This is a self-hosted solution, so you'll need to find your own web hosting plan. Magento is a bit more complex than Shopify, but it's also more flexible. This can be a good option if you want to have more control over your eCommerce website.
There are other options out there as well, such as WooCommerce and BigCommerce. Ultimately, the best platform for you will depend on your specific needs and goals. Do some research and compare the different options to see which one will work best for you.