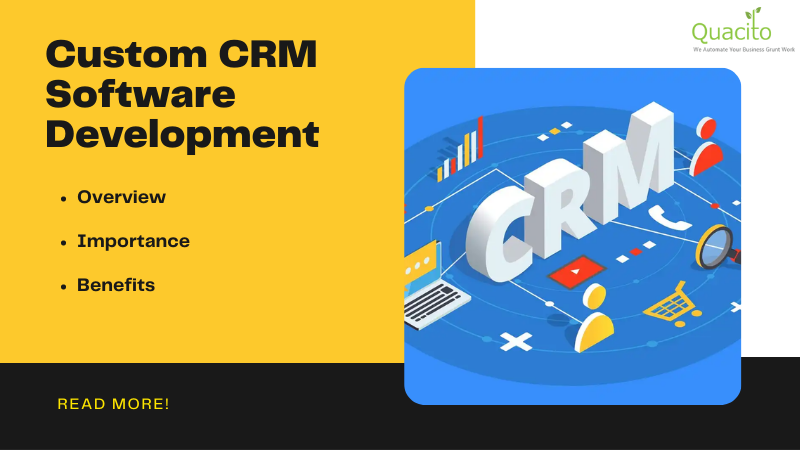 We have all heard about how custom software development can really transition a business into the path to success. In fact, did you know that around 65% of businesses have been observed to adopt Custom CRM Software within the first five years of their launch? However, in this blog, we will be discussing the overview, importance, benefits of custom CRM software development. As a company that provides custom software development in San Antonio, we have personally seen how businesses can benefit from the help of such software. 
OVERVIEW
Custom CRM software development is always executed while aiming at the streamlining of business processes so that it can eventually enhance customer relationships. In this dynamic world, we have studied that every business has its own set of requisites. This means that when it comes to an off-the-shelf CRM solution, it may not end up meeting the company's needs. On the other hand, when a business gets a customized CRM application they notice that it has been tailored to fulfill their unique business requirements. 
With a CAGR of around 12.1% in the next 7 years, today, CRM technology is predicted to reach a value of around $128.97 billion in 2028, according to fortune business insights. 
IMPORTANCE
The job of a CRM system is to enable businesses in order to plan, optimize, as well as synchronize all of the interactions that the business has with its customers. Not only this, but it also analyses the data throughout the customers' life cycle with the business. The goal of custom CRM software development is to maximize the improvements when it comes to customer service by understanding the customers better and enhancing the internal processes of the business. 
Custom CRM Software has the ability to categorize customer data. This makes it provide a lot of support to the managers. A CRM application gives easy access to the database enabling automation in the marketing as well as customer relationship tools. All of this eventually results in customer retention as well as sales growth. 
BENEFITS
It has been observed that around 79% of business buyers have said that it is absolutely crucial for them to interact with the salesperson that they think is a trusted advisor, while they are making a purchase. Source
The following is a list of key benefits of custom CRM software development:
Tailored to meet your unique requirements- When it comes to prepackaged CRMs, they charge you for overrated features. Unlike these, customized CRM application is flexible and also tailored to meet your unique business needs. This means that you will be free to include whatever it is that you need, based on your customer data, sales as well as marketing experience.
Structured CRM framework- when you go for custom CRM software development you will be able to enjoy a CRM framework that consists of many individual applications as well as processes. These are structured in order to ease the business processes in specific departments of the organization. You are even free to create elements of the framework when it comes to customized CRMs. This includes scaling them up as well as modifying them based on your unique needs.
A workflow that is completely automated- The journey of a target audience includes many stages. Custom CRM software development saves you money as it automates marketing, sales reports, customer support, billing tasks, analytics, delivery notifications as well as cloud integration. Around 74% of the users have been reported saying that CRM solutions give them much better access to their customer data and that eventually allows them to give out a more personalized service to their customers.
Running analytics on customer feedback- When looking to give a boost to your company and wondering why you are losing clients you should be sure that you are in need of a tool that can investigate their perspectives. When it comes to ready-made CRM programs they can just filter out the general customer information like age, order quantity, geography, etc. On the other hand, customized CRM has the ability to combine diverse features aiming at a more precise result.
Data aggregation that is centralized- Custom CRM software always enables a business to work with databases that are in the format which are commonly used by their teams. It gives you complete control over what's going on inside the organization on a digital level. 
By diving deep into these benefits right away, you must have realized that there are immense advantages to custom software development. However, one must know certain things before they enter into the decision of getting custom software development in San Antonio or elsewhere. 
It is highly crucial that before you get into it you set your goals right, you make the decision of what type of CRM solution are you looking for, you define your access roles as well as levels properly, you choose the CRM features that you are looking for, etc. 
Most important of all, remember that the amount and quality of benefits that you can reap out of custom software development depend majorly on the service provider that you choose for the same. This means that there are many factors that you should consider before hiring a company for custom software development.
In conclusion, if you are a business that was just waiting for a sign to get your custom software then this is it. Wait no more and seek the services of professional custom software developers
Summary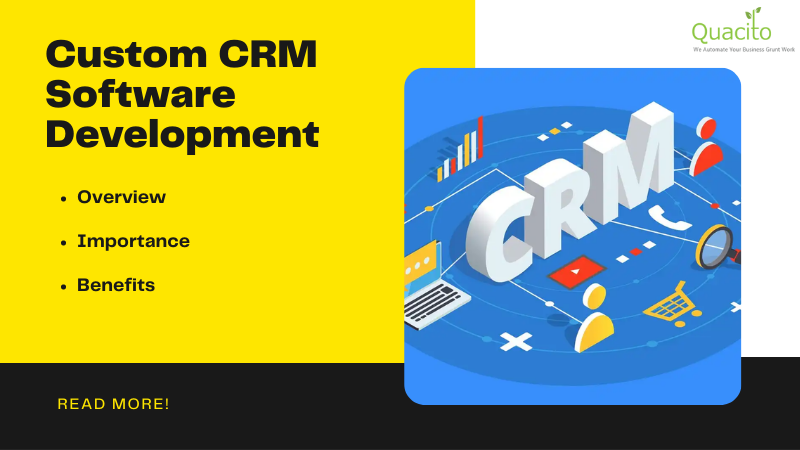 Article Name
Looking at the Importance, Overview, and Benefits of Custom CRM!
Description
Custom CRM software development is always executed while aiming at the streamlining of business processes so that it can eventually enhance customer relationships. Checkout this article to know more!
Author
Publisher Name
Publisher Logo