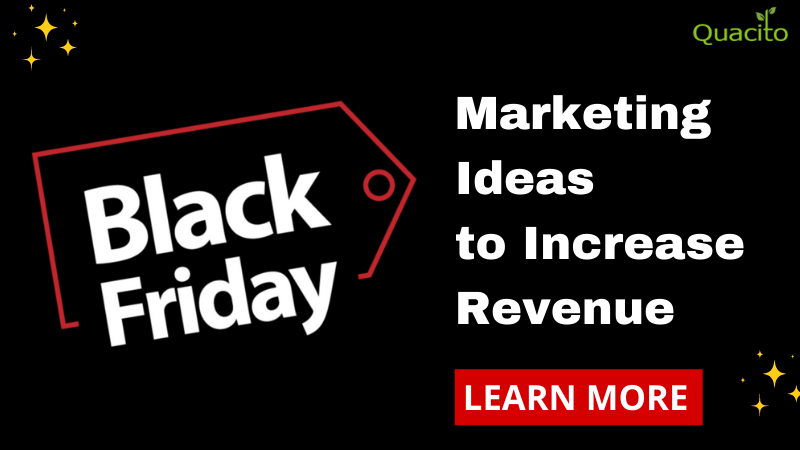 The best part about the Black Friday and Cyber Monday holidays is the refreshing and fascinating marketing strategies and sales of the products-based businesses. Such surprising deals and discounts are always enticing for customers.
The biggest shopping days are just two days away; Black Friday and Cyber Monday. Online businesses are pulling up their socks with their online marketing campaigns for Black Friday to increase sales.
Starting from Thanksgiving, retailers across the USA offer massive discounts, coupons to their customers for consecutive five days that end on Cyber Monday. Most of the businesses are getting ready for another record-breaking year.
Through today's post, we have come up with some amazing Black Friday marketing ideas that bring revenue to businesses of all sizes.
1. Optimize your Website Performance
In the biggest event like Black Friday, thousands of people do online shopping at the same time and they expect websites to load fast, so they can quickly grab the deals and make purchases.
The ideal loading time for an eCommerce store is 1 to 4 seconds as it has a 15% to 30% conversion rate. Website speed is longer than that, lets users abandon their orders and the transactions decrease by 1% each second.
As you know massive traffic comes on an eCommerce website, we suggest evaluating its web hosting this Black Friday. If your website is nearing its resource limit, consider upgrading.
Ask your website development company to have plenty of bandwidth, memory, storage, and processing capacity to support the thousands of products displayed, the number of users, and a smooth shopping experience.
Also, measure your website loading speed with GTMetrix or Page Speed Insights to find out which areas you need to improve for good website performance.
2. Create Shoppable Content
To start with the best Black Friday marketing campaign strategy, you can get started with Shoppable galleries, content on your website.
This type of content is user-generated visual content featuring top-rated products of several brands that can be done by tagging products, price, details, and exciting CTA.
Businesses can take the help of eCommerce developers to collect visual content, tag your products to it and publish them on websites, email, or your social media business pages.
It's an excellent way for brands to increase sales during this holiday season. This will also increase user engagement, build brand awareness, boost trust, and much more with a little marketing budget.
Experts like QUACITO can help you turn your social media feeds and other content into shoppable feeds and galleries.
3. Audit Product Pages
During Thanksgiving, Black Friday and Cyber Monday customers are likely going to spend their time on the product pages looking for their desired items and purchasing on your online store. Hence, optimizing product pages through the help of the website and mobile app developers in San Antonio can ensure a quick and pleasant shopping experience.
Checklist to audit product pages include:
Optimize current product descriptions by including relevant keywords for SEO
Create Gift Guides like 'Gifts for Her", "Home Decor Gifts"
Sync the Inventory on all Sales platforms.
Include six to 8 product pictures from different angles
Display user ratings and testimonials
4. Smarter Social Marketing
In the world of social media, there is a constant increase in the number of social media users who get inspired by the content.
According to a recent survey, millennials are the most prominent buyers during this holiday season. Make use of scheduling apps to post content within a suitable time frame when people are most active on platforms like Facebook, Instagram, Twitter.
If you are looking for more sales, plan your Black Friday marketing campaigns for social media channels before the sale starts and implement them efficiently to create awareness and sales. Take the help of internet marketers to shoot out an effective paid campaign.
The best way to expand your product's reach on social media pages is by utilizing dedicated hashtags.
5. Create the Urgency for Black Friday Campaigns
Offering coupon codes isn't enough for the customers, in order to increase Black Friday sales, urge them to visit the website. A popular entrepreneur named, "Marcus Taylor" implemented this marketing strategy, skyrocketing his sales by 332% in the year 2020.
Few ways to create urgency among online shoppers:
Launch a Flash Sale that lasts for a short time.
Display the stock level when the product quantity is low.
Reward the fastest customers like free shipping.
Show how many customers are viewing this item on the page.
Use time-sensitive keywords like "today only", "now", "last chance".
6. Build your Black Friday Email List
We believe you might know the benefits of email marketing in driving Black Friday and Cyber Monday sales but it needs to be fruitful. For this, you need to grow your email list with subscribers that are interested in buying products from your store.
A week before the biggest shopping day, create an email targeting new visitors who are looking to buy products during Black Friday.
Add CTAs like Signup for a newsletter, Signup for an additional discount or Free shipping can incentivize more subscribers into your email list. And you can send promotional emails to them before, during, and after the Black Friday sale.
So, these are the top marketing tips for your business. If you need any help regarding online marketing, paid campaigns you can get in touch with QUACITO experts at +1-210-695-0795 or fill contact us form to create a customized campaign that brings sales and revenue.
Summary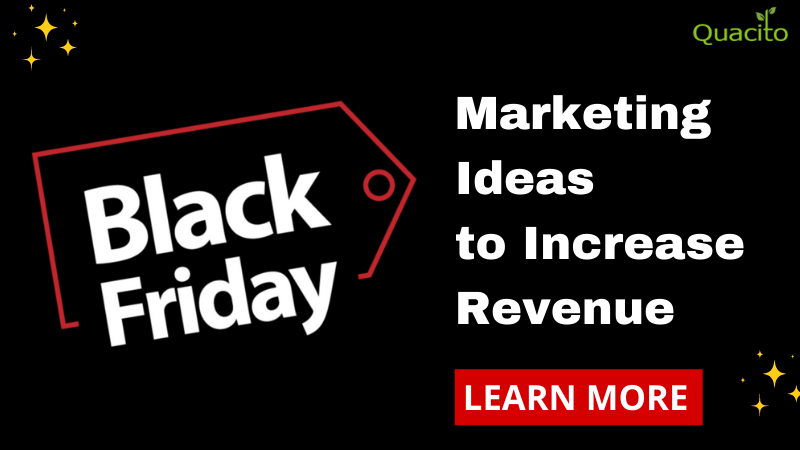 Article Name
Black Friday Marketing Ideas to Increase Revenue
Description
Black Friday is coming on 26th Nov 2021 and here are some of the effective marketing tips to increase sales and revenue of your business.
Author
Publisher Name
Publisher Logo