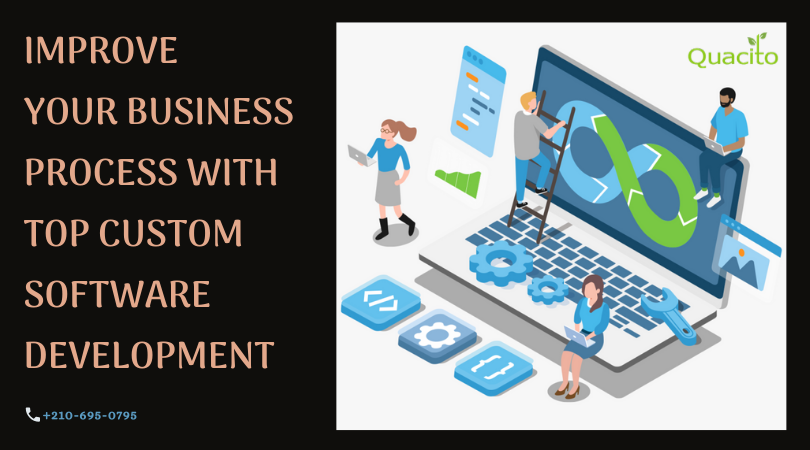 We live in a highly competitive business world. Therefore, one of the necessities that it comes along with is developing software that exclusively fulfills specific business needs. The never-ending dilemma between going for off-the-shelf software or choosing custom software development has to come to an end, sooner or later. When we talk about off-the-shelf software, it often falls short of meeting unique needs. On the other hand, custom software services allow businesses to get software that digitalizes their business operations while catering to the needs as well as requirements as business demands that are imperative.
The problem is that every business comes with a different set of requirements. This is why it becomes very difficult for one solution to be accommodating multiple needs at a single point of time. However, a custom software development company builds software that is for a specific group of users within a particular organization. The software is personalized and also has limited users.
A custom solution comes with many benefits, that we're going to discuss in this blog. Custom software reduces training time and cost. As one of the top software development company, in San Antonio, USA, Quacito LLC can tell you how custom solutions can speed up user adoption as well as deployment. It has the power to fill a niche while optimizing your business flow. The best part is that it does not force you to change the processes that you are already using.
Now, let's jump straight into how custom software development, improves your business process. Have a look at the following list:
Increase in efficiency and rising standards of performance
The great things that custom software gives you as it comes, are all the kind of features you that you would need. And the best thing is that it gives you none of the features that you would not need. Using custom software services to get custom software would also mean a higher quality of work as it would significantly reduce human error. On the other hand, when you have staff as well as processes that are running like a well-oiled machine, it would, unfortunately, leave no room for innovation. Custom software development also works on improving efficiency as well as the performance with the help of much better tech support. When you get a great custom software development company, like Quacito LLC, you'll be having a dedicated support team that becomes a part of the contracted services. Therefore, whenever you would run into issues, you will not have to rely on forums for any kind of answers or even wait for days, looking for a response.
Improves the satisfaction of the customer, client, as well as the employee
When you remove roadblocks for your employees, it can significantly lower their stress levels. By offering sophisticated services to customers, you can make them enthusiastic. This way you can repeat buyers as well as evangelists, and they would not just be someone who would buy something from you only once. So, when the time comes and you launch your new software, and it is complex for the business processes, then it will result in the employees, as well as clients, experiencing a learning curve. It is in your hands to curb the growing pains, simply by asking the software developer to focus on intuitive UX, at the time of development. Therefore, having the top software development company, in San Antonio, USA, helps.
Support expansion of the business effectively
If you're planning on adding more services, employees or locations, in the next coming years, then custom software might just help that transition become smoother than it would have been.
When compared, the off-the-shelf services get updated and evolved much more slowly than the custom solutions that are available to you. Therefore, when it's time to request changes as well as accommodations, you would be at the mercy of a long queue. It's depressing to think that your concerns might not be addressed at all. And, even if they are, there's hardly any possibility of them matching your exact specifications.
Custom software has the capability to be built for being updated easily. If you create this amazing solution and further need changes in a year, then the development team can easily iterate.
You get a competitive edge
Of course, this thought has crossed your mind, but let's put it out once again. Your competitors and you are probably using the same set of off-the-shelf software(s). So, the moment you make the decision of switching to custom software, you would be giving yourself the opportunity of solving problems that your competitors will not be able to. This way, you'll always keep the edge over your competitors who would not be customizing. Buying the rights to your custom code gives you a chance to really clinch the competitive edge.
Automation of Daily Tasks
We all know all businesses have their own primary processes. These can be automated very easily and therefore, it helps in saving significant effort as well as time. This would allow you to accomplish other tasks that would need to be done manually by the employees. So, if you're looking for automation of the various tasks that you execute daily, then custom software would easily prove to be a great resource.
Finally, all you'll need to take advantage of these benefits that custom software development brings is a great custom software development company. Someone who listens to your specifications, and works with you at every step. Someone who puts you before themselves. Someone like Quacito LLC- One of the top software development company, in San Antonio, USA.
So, write to us at nitesh@quacito.com or contact us at +1-210-695-0795 for brilliant custom software services.
Summary
Article Name
Improve your business process with custom software development! Quacito- San Antanio- USA
Description
Do you want to improve your business process? If your answer is yes then you must go for Custom software development coz you know your business better.
Author
Publisher Name
Publisher Logo