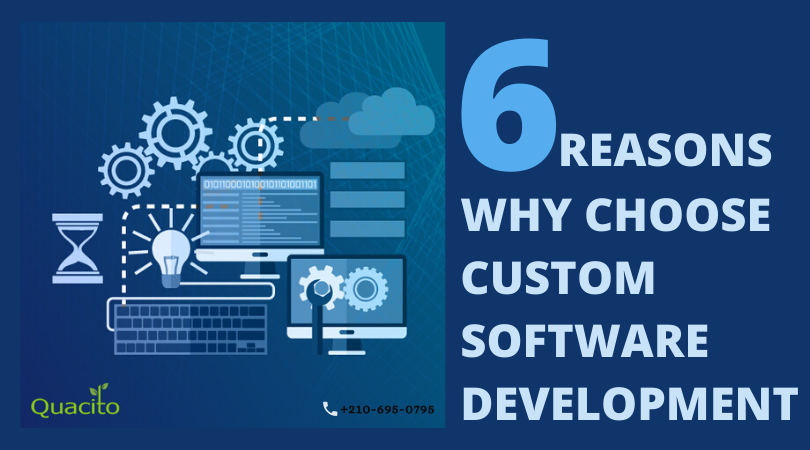 To dive into this topic, we will have to look at why custom software development in San Antonio, becomes the best option for businesses. This goes for startups as well as enterprises alike, for resolving complex business problems along with improving operations. Now, you need to remember, that every business is absolutely unique. Of course, they may all have common business problems. However, each of them has a unique story behind the way they handle their business problems and come out of it.
When it comes to packaged software, it is an inadequate one to resolve the struggles of employees. Neither is it able to remove the complexities of the processes or meet the preferences of customers that are present across the industries. Hiring custom software development services in San Antonio would address such types of organizational challenges when it comes to startups as well as enterprises.
Before digging deeper into this subject, let's make you understand what custom software development is. As an outstanding custom software development company in San Antonio, Quacito LLC will do a great job at making you understand this better.

We all know that technology space is unpredictable, and is involuntarily making the market competitive as technology impacts the preferences of employees as well as customers both. The unpredictability puts pressure on the businesses and asks them to quickly change according to the new market trends. The more time a business takes to change, the more expensive it becomes for it.
This is precisely why many companies are taking the help of custom software development services in San Antonio for building an intuitive as well as a user-friendly software product, that is tailored to their unique business requirements.
Have a look at the 6 top reasons for choosing custom software development:
1. Single Software and Databases lack in Completing Complex Business Tasks
All the companies that use packaged software have one major disadvantage. This disadvantage is that they cannot perform all the given business tasks on the same software. Single Software and Databases need to use multiple types of software in order to perform a very wide range of business tasks. Eventually, there becomes a possibility that this may cause engagement as well as security problems. Therefore, the major impact of using multiple types of software as well as databases is that they aren't capable of generating insight into business operations.
2.The Deficiency of Visionary Software
When a business is always growing as well as investing in an off-the-shelf software, it would mean that the business is being restricted of its growth and is being limited to a particular set of functions. With custom software development, the business would get the scalability options, as well as the means, and the functions plus capabilities of the software to grow as the business grows. In this market, there is a big deficiency of scalable, visionary software products, that could be scaled according to the individual requirements of the customers. 
3.Capabilities of Integration
When it comes to a great custom software development company in San Antonio, it has the capability to provide a range of options in order to integrate different types of APIs. When it comes to the packaged software, most of them are incompatible with other programs. Therefore, integrating another software for enhancing its capabilities would not be possible. This becomes another reason for many companies to prefer custom software development services in San Antonio. 
4.Benefits that are Personalized for You
A major advantage is personalization, when it comes to investing in proprietary systems. A custom software development company in San Antonio, that is reliable, has the capability of building software applications that are specific to the requirement of a given business. This way, the app can strictly be tailored to a set of processes that are followed by the organization. Moreover, with this sort of arrangement, business leaders can be provided with full access as well as control.
5.Security of the Application
When you think about cyberspace, you immediately know that it has a complex threat environment. Therefore, application security becomes a crucial concern for modern businesses. This is true, irrespective of their sizes. Any application on the Internet today is constantly exposed to security breaches. Each and every company is taking measures of safeguarding its software products against any kind of exploitation by hackers. However, the present situation is still not a good looking one. Therefore, when an organization engages with a reputed as well as qualified custom software development company in San Antonio, they can take added measures for preventing their data from hackers as well as from disgruntled employees.
6.Saves Your Precious Time and Money
If software development is not an important part of your business profile, any kind of complicated IT task is mostly wasting your team's time. There are many specialized firms that take on your software development project, tailor it to your unique needs, and implement it quicker, as well as in a better way. They are also more cost-effective than your in-house IT department. The initial costs of custom software development might be discouraging, but as time passes, they would prove to be worth it. When you optimize the business processes to be seamless and lean, they will be able to shave off all kinds of unnecessary expenses, way more efficiently, as compared to any mass-produced software.
If you're still not able to convince yourself of hiring custom software development services in San Antonio, then you must get in touch with the experts at Quacito LLC. Not only will they be able to convince you, but you will not have to look at any other company for these services. Visit us at https://www.quacito.com/ or contact +1-210-695-0795.