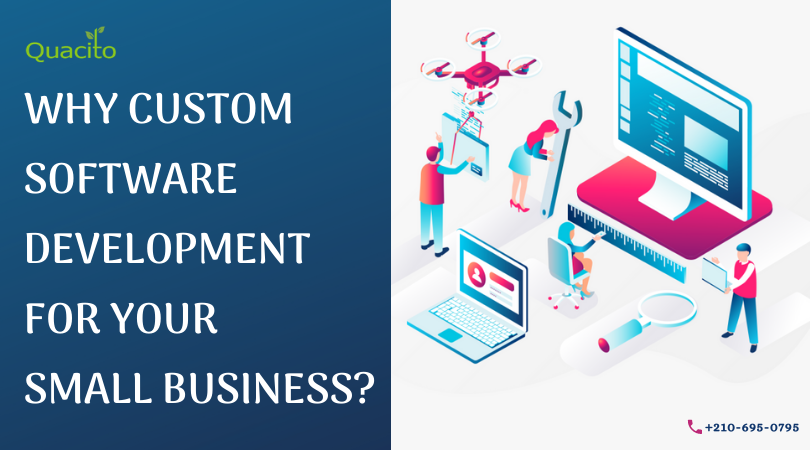 Thinking of implementing software for daily business operations? You have the option of investing in an off-the-shelf solution as well as the option of developing new products completely based on your unique requirements. If you have the need to go for a unique product, then choose the right custom software for SME's.
All of us are well-aware that being flexible as well as scalable, increases the business output along with reducing costs in the long run. As a result of this, the high ground is brought to your enterprise.
Let's look at why custom software is the way for SME's.
Shedding a little on Custom Software Development:
Custom software development is referred to as the process of designing, deploying, as well as maintaining software products. The uniqueness of this process makes it specific to each client's business, their definite parameters as well as their needs. The entire approach of this beautiful process is about building a project that has a particular idea as well as the audience in mind, in order to meet your exact product requirements.
The approach of custom software development offers sophisticated solutions for domains that are rather narrow industries. It majorly helps in getting exactly what the enterprises need.
Some of the domains that benefit greatly from custom software are healthcare, online banking, as well as finance.
When you will take a look at the major stages of custom software solutions for SME's, you will find that research is the starting point of building a product that is tailored. This stage in itself might include onsite workshops, interviews with stakeholders, as well as discovery sessions, and more.
The best thing about tailored products is that they are really great at improving the overall efficiency of organizations. Custom-built solutions are amazing as they are closely connected with the objectives of the business.
Now, let's address the issue for which you came here. Why custom software for SME's?
Always start by taking into account that no enterprise can get custom software development as their magic wand. This includes the small business as well. Therefore, before taking the step of investing in this approach, think about the following:
Does the business comply with specific standards of your given industry or government regulations?
Does your business have security rules, and if yes, are they compatible with this approach?
Does your business have a lot of complicated data that needs to be worked on? Are you wishing to optimize it?
Now, also look at why it would be a bad idea to apply customized software development in the following cases:
If you don't have a lot of time on your hands.
In case you want to launch as soon as possible, the truth is, that it is much faster as well as convenient for you to use an out-of-the-box solution.
Having a budget that is limited
When it comes to building a project from scratch, it becomes complex as well as cost-consuming. If you find a pre-existing software solution, in which the desired functions already exist, then you can save a lot of money. Although, keep in mind that in some cases, the cost of a ready-made solution might just turn out to be more expensive than the bespoke software.
All in all, if your goal is to build a product that is unique and comes with high-security standards, and you're lucky enough to not be limited by time, then go ahead and invest in progressive tailor-made solutions. If not, then you should go for considering off-the-shelf software. This will make your launch fast, but at the same time, you should be ready for scalability as well as sustainability problems.
We have listed the main reasons out of the numerous ones that become the benefits of custom software development for small businesses-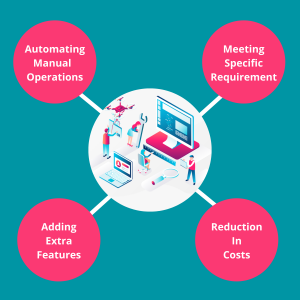 1. Meeting specific requirements as well as problems
Every company is unique. It has certain needs and issues that have to be solved.
If one chooses custom software development for small businesses, it would help meet their concerns as well as key needs. This is because it won't just be a set of general features. Tailored products have the skills to take into consideration the small businesses fine points along with their hidden risks.
This is why so many organizations have a preference of collaborating with custom software development companies.
2. Reduction in costs
When it goes about a long-run period, custom software solutions for SME's can be the best choice. Bespoke software development would mean rational time with money-saving. This means that you can build some functionality that has a certain list of functions that you need. In this way, no one would get any unnecessary features on their product that take up the extra costs.
Whenever you are creating a project, think of your business requirements, and all the features that the ready-made solutions offer. You would find that there is absolutely no need to buy them with the functions that you would never even use.
3. Adding extra features as required
The ready-to-use platforms come with the disadvantage of not always providing you with all the required functionality. This can become a real problem in the future. This is why off-the-shelf solutions have the capability of becoming the best choice for small companies that are just going to the market. So, you do not have to be limited by the functions offered by ready-made platforms.
4. Automating manual operations
Numerous manual actions might become ineffective for a company's workflow when expanding your business. This may result in an automation problem.
Here come custom software solutions for SME's tuned to your particular needs. Like this, you can manage your key processes. The improvement would include accounting, procurement, as well as finance managers.
There are many other benefits of custom software development for small businesses like making the data secure, getting technical support and improvements etc.
If you're looking for developers that can deliver a tailored product matching your exact requirements then get in touch with Quacito LLC. Visit https://www.quacito.com/, or contact +1-210-695-0795
Summary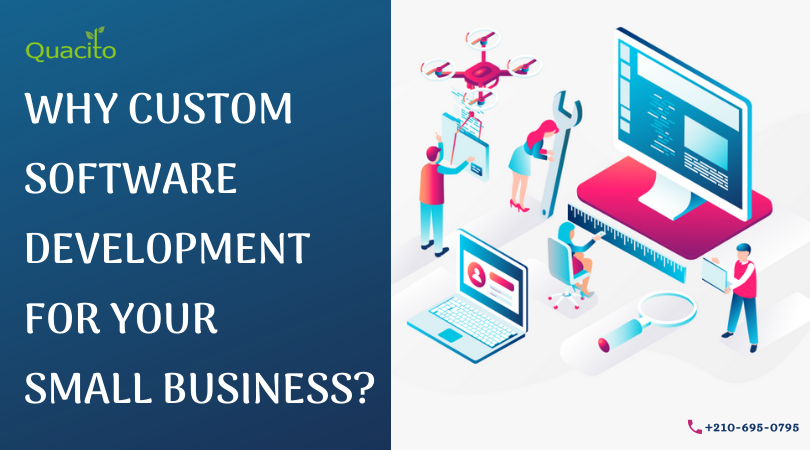 Article Name
Why Custom Software for Your Small Businesses and what are the Benefits of it?
Description
In this blog we have covered, Why Custom Software for Your Small Businesses and what are the benefits of the Custom Software Development for SMEs.
Author
Publisher Name
Publisher Logo