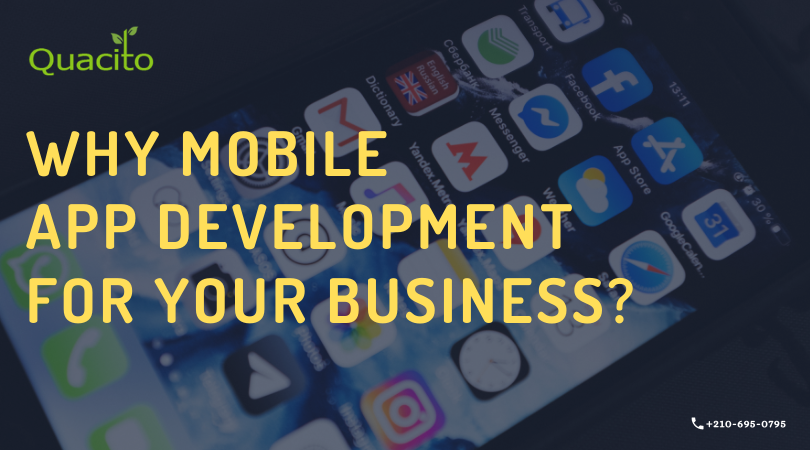 As we go on to experience life with digitalization, we observe how technology has opened up an ocean of possibilities. When it comes to mobile applications, they are becoming more and more significant as an aspect belonging to the technological revolution. Smartphones are empowering us and helping us to resolve day-to-day problems as well as adding value to our lifestyle. It doesn't matter anymore, whether your business is a small or large one. Every enterprise needs mobile app development for improving their business performance.
The best part about all this is that getting a business application developed is no more a tough task, and it does not act as a hurdle either. This is because now you can easily outsource the development to a great mobile app development company of your choice.
Before we go on with this blog and start shedding some light on why as well as how mobile app development has the capability to turn things around for an organization, let us take a look at some of the mobile app metrics present worldwide.
Studies have proven that about 81% of mobile phone users are preferring searching for a product /service through an online platform. Out of these 81%, 26% look for an application related to the same.
According to one of the reports from Techcrunch, 90% of people living in America were reported to use more time for using mobile apps overviewing their cable television. To top it all off, surveys say that the coming five years will see a rise in business app downloads by 16%. Know why mobile apps also need a great UI and UX.
Now the question is, why a mobile app for your business? Well, here are the reasons why: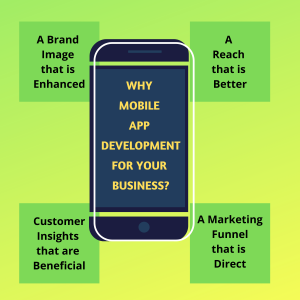 1. A Brand Image that is Enhanced- Take any company into consideration, and you'd find that one of the factors affecting its success is its brand image. In today's world, all the customers are technically aware. Therefore, an enterprise having no technical capabilities or no business app, made by a great mobile app development company, might get regarded as a brand that is out of touch with the latest trends of the world. This will result in the future prospects of the company to be indirectly impacted. Having a mobile app for your business helps the business to remain in constant touch with the customer, and improves the brand image as well.
2. A Reach that is Better- You probably know absolutely no one today, who does not own a smartphone. Well, there may just be a few of them, but you would find a majority using smartphones. This easy availability of devices around us is making it easier for any business to reach their target audience much more effectively than ever before. This helps them communicate at a deeper and personal level. It is better than to depend on store visits by the customer. They simply offer their products as well as services through enterprise mobile application development. This is exactly why businesses should be investing in developing apps for Android as well as iOS, in order to better enhance their reach. On top of all this, leveraging digital marketing allows a business enterprise to reach its target audience, particularly through social media platforms as well as websites among many other available mediums.
3. A Marketing Funnel that is Direct- Not only is reaching more and more customers an advantage of launching a high-quality mobile app, but the users also have the power of readily available information on the business' products as well as services. Sharing things like prices, discount coupons, news feeds, as well as general information to the customer, can be done directly through the business' mobile app. On top of this, you have the ability to send push notifications that immediately remind your customers about the products as well as services in question. A frequent interaction like this with the users, motivates them to recommend your brand to their friends and family as well.
4. Customer Insights that are Beneficial- Mobile application development has another great advantage, which is the gathering of useful details about users. This helps your business in generating customer insights that can turn out to be really important. This analytics can help you identify the customer's behavior, most active regions, customer needs, demographic segments and much more. This kind of data can be used for product enhancements. It can also be used for recognizing fresh business opportunities that would greatly enable the company to grow.
This is why at Quacito LLC, a mobile app for your business would be equipped with an enterprise administration backend. This would enable the in-house teams to manage as well as administer the business solution.
The answer to your question of 'why a mobile app for your business?', is all such benefits that mobile application development would deliver to your business. Apart from these few benefits, there are much more like trust-building with customers, integrating customer loyalty, reaching beyond geographical boundaries etc, that a mobile app for your business would give you. We hope that gives you the answer to 'why a mobile app for your business?'
A great mobile app would not only optimize business logic but would also majorly help a company in building a robust brand presence in the given market. You can now hire a mobile app development company in San Antonio like Quacito LLC to develop an app for you. It is crucial to select the right mobile app development company. Quacito LLC possesses expert knowledge of all the development platforms, designs as well as coding languages, among other factors.
You can contact us at https://www.quacito.com/ or call at +1-210-695-0795.
Summary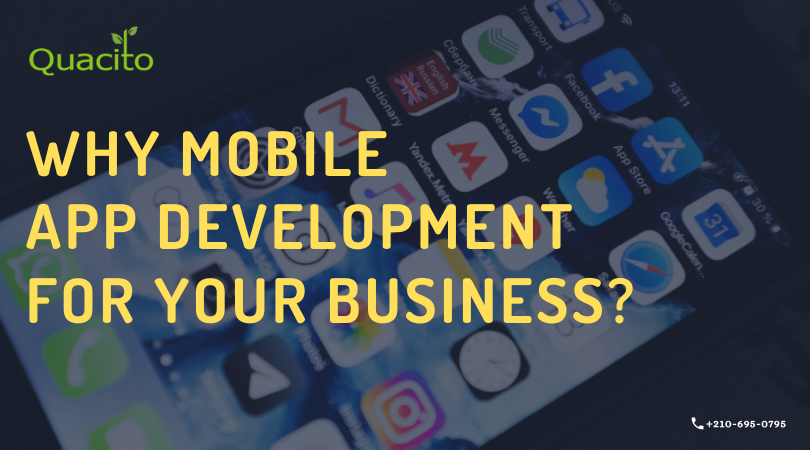 Article Name
Why Mobile App Development for your Businesses?
Description
Every enterprise needs mobile app development in San Antonio, for improving their business performance. ask quacito by writing us at nitesh@quacito.com
Author
Publisher Name
Publisher Logo