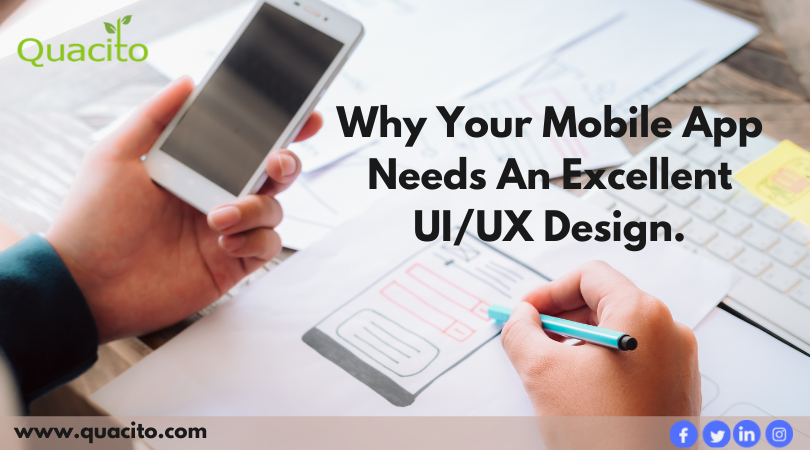 Launching a mobile application in the digital era that is highly competitive demands a great user experience. UI and UX are the two essential components of any digital product that makes sure it contributes to the success of your app.
A good UI delivers the first impression on users and brings more profit to any business while an amazing UX can put a long-lasting impact on their minds. Hence, both should be considered as important components to make your app successful in the industry as well as users can browse through the app easily.
Top app development companies are coming up with an efficient UI/UX design because it's the top-most priority for most owners. Businesses are focusing to build a reputation for their online business that gains higher user satisfaction.
As per a report published by Statista, 6.3 billion mobile users across the world are spending half of their time on the Internet. More reports state that we have 2.89 million mobile applications available for download on the Google Play Store and Apple store.
Regardless of your needs, let's discuss the reasons why you need a good design for your app:
Enhances customer satisfaction
A great design for your mobile application delivers engaging content and easy navigation to your customers. This leads to customer satisfaction with the features and functions of your application. Well-satisfied clients always speak a word about your app in front of others and this will somehow increase more users. Besides, they will become your returning customers and loyal to your digital business hence increasing the ROI for your business.
Get featured in app stores
Whether an application is good or not is determined by how many users installed it on their smartphones. The ratings & reviews by users will bring your official mobile app in top results of Google Play Store or Apple store. To get featured in the top positions, make sure your app delivers a good UI/UX to users. Once your app is getting features in the top lists of any category like adventure, casino, educational, music, sports, strategy, etc will automatically bring more traction to your app.
Builds your brand
Investing your budget in the best mobile app development company that offers an efficient UI/UX design helps in increasing customer satisfaction and in the end, you will get happy customers. Most people install apps with a good brand identity. People who're working with brands will be more willing to find out features that a business can upgrade and as a result, you invest in improving your user experience through the application. This enhances your business credibility, creates good relationships with clients, and thus adds growth in the value of your business and your brand name.
Drives more traffic
If your developer designs your app with proper UI/UX it will automatically start driving traffic to your app. As a result, it will help gain new downloader's and retain them as well. Every business wants to get an attractive app in this competitive market to stay ahead of others and some top app development companies in Texas are working as per clients' requirements.
Save time and money
Selecting the right app development expert for a great UI/UX design means there is a minimal chance that your users will find any problem or bug with your application. A perfect product doesn't need any frequent updates and therefore saves the money and time you would have spent on developing an upgrade version. Updates in the mobile app require some investment in terms of money and time and may incur losses to your business.
Now you have understood the reasons why UI/UX design is important for mobile apps, let's move further through this blog on mobile app best UI/UX practices.
Keep main actions accessible
Accessibility into digital products is the practice of making your product usable by a large group of people. With the ''design for everyone'' concept in mind, it is important to know the different ways people hold their mobile devices. Left hand, combined, and right hand is 3 common ways people physically hold their devices, so your goal is to launch an app as per users' accessibility.
Use conventional elements
Ask your development team to use familiar elements in the app that saves time for users. They can quickly learn about the product without getting confused. Some of the core elements like buttons, icons, colors, and symbols should be designed and placed in the way it's designed in featured applications. The quicker your users learn to navigate the app, the higher will be the chances of liking the app.
Consider platform-specific designs
There is a huge difference between iOS app UI design and Android app UI design and businesses need to consider both the platforms at the device level.
On the other hand, the UX design of iOS and Android applications also varies from each other. So, hiring the right cross-platform app development service provider only understands both material design and user interface design in addition to the elements that separate them from each other.
Font type and size
Different font styles can evoke different emotions while delivering easy readability of the features at the same time. The wrong font choice by your developer can also break your design, which is why skilled designers spend a lot of time choosing the best typefaces, font size, and color contrast before moving ahead.
Final Thoughts
UI and UX designs build brand recognition and enhance its digital presence. If you have planned to launch a mobile app, this is the best time to implement the best UI/UX design practices and follow the latest UI/UX design trends in the mobile app development process to stand out in the digital world.
What we do
QUACITO is the trusted mobile app development company in San Antonio, Texas to design & develop custom mobile apps. Our in-house team of developers is capable of creating attractive apps for multiple platforms like iOS, Android, and cross-platform solutions in React Native, Flutter & Ionic. We bring expertise in developing mobile app development solutions to fulfill your business requirements.
Get a free consultation from our experts and let them turn your dream into an amazing mobile application.
Summary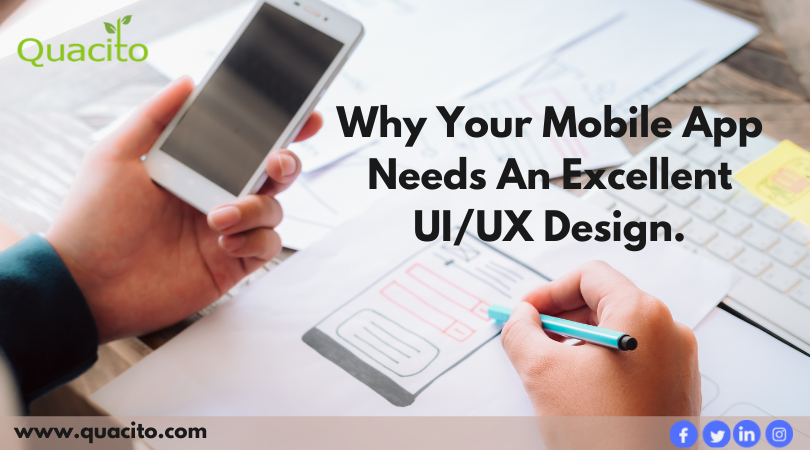 Article Name
Why Your Mobile App Needs An Excellent UI/UX Design
Description
Investing your budget in the best mobile app development company that offers an efficient UI/UX design helps in increasing customer satisfaction. Read the blog to find out the importance of UI/UX in the mobile app.
Author
Publisher Name
Publisher Logo