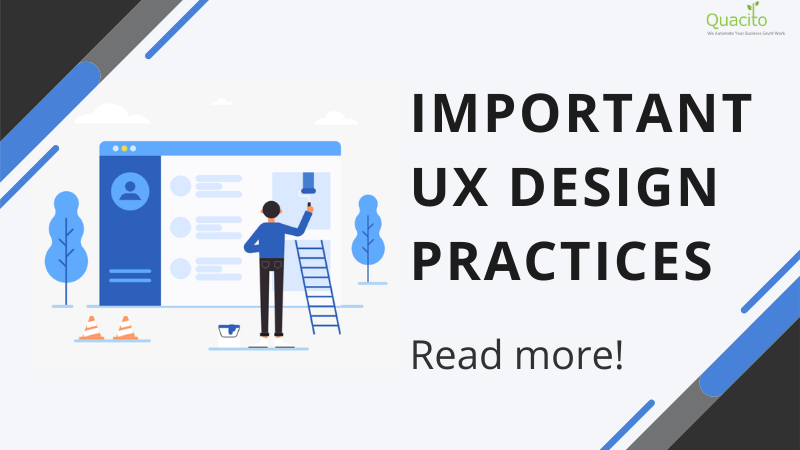 When building a website, take the user experience (UX), into consideration! 
When building or revamping a website, it's easy to become obsessed with aesthetics. Which hue is the most appealing? What is the best place for the logo to appear? How about a page with an animated GIF in the middle?
It's crucial to remember that your website isn't just a lovely face in a world where there are over 1.8 billion websites to choose from.
User Experience Fundamentals
Understanding users, their needs, what they value, their capabilities, and their constraints is what user experience (UX) is all about. Furthermore, the project is handled in accordance with the group's corporate goals and objectives. But as said by a web design company in USA, digital trends that are rapidly evolving can make your website feel old and outdated. To help you overcome this challenge, we have put together a list of amazing ways you can improve your UX design to make it more helpful and useful.
UX Best Practice #1: Know your Users
If you want to do user experience research, you need to figure out exactly who the targeted users should be. Can you research internally, externally, or a combination of these two? What type of users do you have? How many? What age? Who is your clientele?
Make your user personas as early as possible. They can assist your company in better comprehending your users' needs and language. Use any past research or personas work done by other teams as a starting point for your user interviews, which can help you better understand your customers. What are their values, actions, attitudes, needs, limitations, and pain areas, and how would you describe them? What do they do during the day? What products or features are they utilizing? Once you've created these personas, present them and disseminate them broadly within your organization. Allow users to direct your teams' decisions and priorities, and urge them to consider all of your users.
UX Best Practice #2: Choose Intuitive Navigation
Users have an expectation of where your navigation should go, and if you go too far from the standard, they may become irritated and leave your site. You only have five to ten seconds to make a good first impression on visitors to your website.
Visitors can know where vital elements are at a glance with an easy layout comparable to what most other sites use, making your site more accessible. People are used to seeing a certain order in a website's structure and will look for items on your page in that location, such as the home button (or your logo that acts as a home button) in the far left spot in your navigation bar.
Your site's whole architecture is based on navigation. Look at internal components and see where users head when they visit your site. The top performance likely forms categories for your site navigation structure. Elements such as content, testimonials, and FAQs go under each main category.
UX Best Practice #3: Draw Attention to CTA
One of the tough tasks is helping clients identify the precise actions they want people to take from their site and then designing the site in a way that leads visitors down those action pathways. Our web development company in San Antonio gives Signup, Donate, Schedule an Appointment, Buy Now, Learn More, and Contact us buttons usually in big, bright colors & fonts at the top of a website's home page. This call-to-action (CTA) buttons ultimately let users take appropriate action.
UX Best Practice #4: Keep Pages Consistent
When it comes to website design, consistency is king. Heading sizes, button styles, spacing, coloring, font, layouts should match throughout your website and internal pages. Otherwise, you risk creating a disjointed user experience that makes visitors feel lost, confused, and irritated. If your website leaves a bad image in people's minds, they probably won't be coming back any time soon.
Read about the 5 Signs telling you that You Need a Website Redesign
UX Best Practice #5: Embrace the Whitespace
Adding white space is the simplest and most universal technique to improve user experience design. Surprisingly, it's often overlooked in favor of more complicated graphical solutions. Even a small amount of white space, however, can modify the overall picture, shift the accents, and bring the visitor closer to making a decision.
Take the white space in a figurative sense. White space does not only refer to the color white, despite its name. Rather, it refers to any sections of a design that aren't occupied by other elements like text, pictures, or illustrations. According to Canva's definition, white space can be any hue because it refers to the design's background.
UX Best Practice #6: Test Early
How do you know, you have created a good user experience website design or not? By testing early and often and making any changes as necessary.
If you have the budget, our website design company can run prelaunch user experience research. This will give you feedback on usability from people who're representative of your target audience. Also, A/B testing for your website can help you determine which UX elements help you the best and your customers reach your goals.
UX Best Practice #7: Make your Site Responsive
More than 54% of web traffic comes from mobile devices. As such, if your website isn't fully mobile-optimized users are five times more likely to leave it. So, you are basically shutting out a huge number of potential customers by not optimizing your site for the best user experience!
There's another advantage to remember here, aside from your clients: search engines like Google crawls both your desktop and mobile websites and uses both of them to index your site. That means, in terms of search engine optimization, a mobile-friendly website can help you rank better in SERPs.
Here are some ways to make your website more mobile-friendly:
Choose a mobile responsive theme or template.

Make Information People Look for Easier to Find.

Ditch Text-Blocking Ads and Pop-ups.

Make Website Speed a Priority.

Keep Your Web Design Simple.

Choose a mobile responsive theme or template.

Avoid Flash.
Conclusion
The key to good user experience (UX) website design is making it work for both your users and your platform. In addition, a well-designed UX is about leading a visitor to the data or resources they are looking for while cutting off everything that might stand in their path. We hope these UX design tips will help you find out the right elements that will make your design useful for both you and the users to interact.
Want to get the perfect web design services for your business? Contact our talented website designers and developers to make it happen.