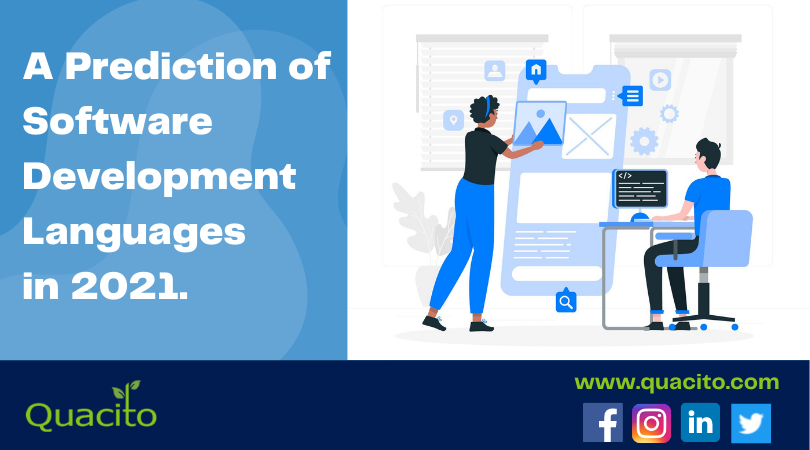 There are many software development companies in San Antonio, and all over the world. As a software development company ourselves, we know a lot about what goes inside and outside this world. For the year 2021, we have many ongoing software development trends. However, in this blog, we are going to discuss the predictions of software development languages that are going to dominate the industry of development.
We all know that everything from problem-solving to informed decision-making is dependent on the skill as well as expertise of developers.
To start this blog off, let's talk about Native App Development:

When it comes to Native App Development, it will remain unparalleled. This kind of development refers to creating software programs that are fit to run on specific devices. The most common target device for native app development is the very famous- smartphone. We all know that iOS and Android have managed to capture the world market. More and more businesses keep investing in multiple native apps for iOS as well as for Android.
Further, let's discuss a little more about the top three frameworks used in 2020.
Angular 2+ being the fully-featured framework that it is, has the power to allow simple routing and build compelling user interfaces.
ReactJS is a library where less code has to be written and the implementation of the virtual DOM allows for a greatly enhanced performance.
NodeJS is fast as well as lightweight. It has become the very go-to framework for fast as well as scalable networking applications.
These three are not going anywhere. They are going to dominate 2021 more than they dominated 2020

Now, have a look at the list we have drafted, which includes our prediction of the trending software development languages.
Big Data Computation
Earlier, Hadoop Map-Reduce used to be the framework that was utilized for the computation of large-scale datasets. These days Apache Spark has taken over the Distributed Batch Job. Not only this but Apache Spark has also bested Hadoop Distributed File System (HDFS) in performance as well as costs.
It specifically targets the limitations of Hadoop Map-Reduce. Apache Spark processes everything in memory rather than storing the data after each and every operation. It is predicted that Spark will rule over the batch processing framework in the year 2021 and even after that for the upcoming years.
Rust Programming Language
In the year 2020, Rust managed to garner plenty of attention from programmers. Many software giants like Microsoft, Intel, and social media enterprises like Facebook have come out in support of the Rust Programming Language. If you're still looking for an indication that tells you to choose Rust as your next programming language, then you should probably know that Microsoft is looking into adopting Rust programming language.
This language has started gaining a lot of traction in the industry. Even though the language still has a long way to go, there are more and more companies that are looking into adopting Rust in the year 2021. Rust is genuinely much more than a simple set of libraries or a mere compiler.
It has become very easy to execute programming due to the Rust community. Their aim is to make programming easier, safer, as well as much more fun in general. Earlier, Rust used to be treated as a hobbyist language. However, their transition has made the language look like one of the main programming languages in the industry.
Kotlin, Scala, & Java
These are a great trioJava programming set and will continue dominating the market in the year 2021. The Java Virtual Machine has been offering an excellent foundation for JAVA. Moreover, many popularly used programming languages like Scala and Kotlin use JVM as their runtime.
It should not be forgotten that Oracle has changed the license for JVM. Therefore, a one-time license for Java SE 8 or later is not available to us anymore. This basically means that all the companies that are using Java, Scala as well as Kotlin (JVM languages) will now have to pay a huge subscription fee.
Amazon, Microsoft & GoogleCloud
The respective provider's Amazon, Microsoft as well as Google would be continuing to make the big bucks in the year 2021 as well. It looks like each and every business from a small startup to the conservative companies like health care, banks, government organizations, intelligence agencies, and insurances are turning to cloud vendors. This kind of trend would only be growing in the year 2021. This is because more and more companies of all kinds of sizes are moving to Cloud. If you're still hesitant about Cloud, it's time to leave your inhibitions.
Additionally, you should know those cloud vendors including big ones like Amazon, Microsoft, as well as Google are giving out free credits. They are doing this in order to give hands-on experience in the cloud to all of us out here. It is a fact that Google is offering up to $300 free credits in a single year.
Database
If there's one fact out there that was very difficult for people to digest, then it was that we cannot run the world without SQL databases. SQL has managed very well to bag the top spots for popular databases in the year 2021. This is mainly due to SQL offering durable ACID transactional guarantees. Since this kind of transactional system is crucial for business applications, we can assure you that SQL databases will continue to strive in business this year as well.
This year 2021 is looking at a Distributed SQL Database. This means that it will finally fulfill the requirements of web-scale companies all over. Whichever of the companies succeed in giving the world that, will be looking at an excellent business for the coming years.
In conclusion, software development and app development trends keep changing each and every year. This will continue in the years that are going to follow. More and more programming languages will be seen, rising to the forefront of software development. At the same time, older ones will be losing a lot of business. The nature of this will be such where one major software powerhouse will be falling, and we will witness the rise of another. One of the most competitive industries today is our very own software industry. This is large because technologies can no longer be kept separate from any kind of business. The software industry is affecting each and every sector. This gives rise to fierce competition in the industry.
For any more information, get in touch with Quacito LLC!
Visit https://www.quacito.com
Call us at +1-210-695-0795
Summary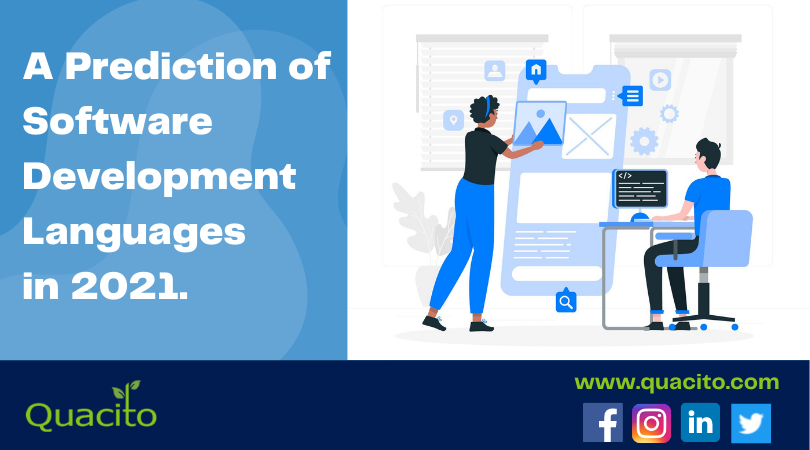 Article Name
A Prediction Of Software Development Languages In 2021
Description
Want to know the latest software development languages? We have discussed a prediction of software development languages.
Author
Publisher Name
Publisher Logo