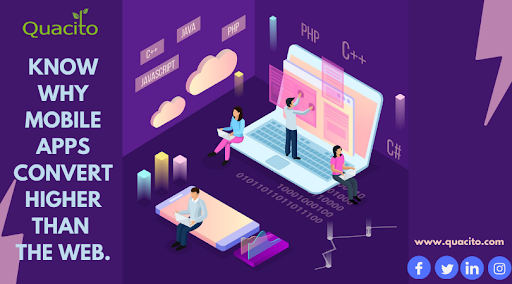 In today's world, every industry including every business needs to be digitally present either as a mobile app or website. For the last decade, almost every business has established a mobile presence. The amount of mobile users is higher now than the number of computer users. We're currently in a cellular world, there are four billion mobile customers throughout the globe. 52% of all internet traffic globally originates from smart devices such as mobile phones, tablets, etc. 65% of digital consumption in the US is done by mobile phones only. Each mobile category has been trending better for years, giving no warning signs of lowering down soon and mobile app development will be dominating the year 2021.
In the pandemic time, various businesses started to sell their products using mobile applications which are the biggest example of mobile app usage. Features like the home delivery option, offers, delivery time and order tracking, etc. caught the attention of customers at the time of lockdown. This is also a reason for the popularity of mobile apps. Mobile apps convert more than websites. This has been proven in the last few years for the mobile app industry. Let's know the major reasons for it. They are listed as follows:
Communication is the key factor that drives conversions. There is a wide range of methods & reasons for a brand & customer to interact. When it comes to knowing which is better: mobile app or website, you can effortlessly make people consider worthy by providing them a personalized touch with a well-designed mobile app with notifying them, in-app updates, offers, and 24/7 customer care.
When it comes to customer support you must add features like live support, help in your mobile apps. This will help customers who have a query or problem related to a past purchase or the products they were considering buying. Live chat is the maximum favored mode to speak with buyers. You also can engage together with your customers through email, ticket support, live chat, phone, or different conversation channels.
As mobile apps can be installed from Play Store or App Store, they provide you access to a particular user's smartphones' primary features. For engaging customers, features such as GPS, Nearby share, a Camera, contact lists, etc can be beneficial for your app.
A feature like live location using GPS is used by various successful businesses such as Uber, Zomato, Amazon, etc. This feature helps to find the accurate address for the customers and the delivery team. As compared to web features well worked on mobile apps.
Whether it is a mobile app or website UX-UI must be impressive. In today's world, it is important to create a mobile-friendly or responsive website for businesses. But this is still restricted in terms of its functionality. The reason is that a mobile site relies on web browsers to perform even basic functions. With a mobile app, you won't have restrictions.
In mobile apps features that include swiping, tapping, or holding down at the display screen enhance the user's experience. At the end of the day, customers prefer apps to mobile sites, and that's why UX-UI is important in conversations.
The abilities of engagement are restricted in websites, and websites are restrained in terms of connectivity. But with the mobile app, a feature like push notification stimulates engagement. Apps make it greater comfortable to maintain your customers as well. By adding features such as customer offers, loyalty programs or referral programs, it attracts users to stay engaged on the mobile app.
Most of the time customers like if they are being rewarded for buying something or conversions. These programs make it more possible that they'll remain to convert. If you also encourage people to refer to friends and family, then the same people will shift ahead. Sharing content, encouraging engagement, and boosting recognition rates are easier for mobile apps rather than websites.
In this modern time, if your web pages are slow, the user will go back to a different web page, following a risen bounce rate of the website.
In terms of speed, a mobile app is faster than the web. Higher conversion valuations with mobile apps bring minor bounce rates and abandonment charges.
App stores and search engines are two immensely diverse online places, with several provisions, limitations, and algorithms. Mobile apps are faster than websites according to many industries.
The push notification feature is a well-known and successful feature for many businesses. This inbuilt feature can send notifications to customers who have the app downloaded from app stores and installed on their phones, tablets.
With this feature, publishers have the ease to send messages to the customers directly. The ability to send the notification is one of the major reasons for higher conversion from mobile apps. Apps such as Amazon, Spotify are doing a great job with push notification features. Their push notification contains offers, new products, sale announcements, etc that attract their customers.
Offline availability or offline access is the most prominent difference between web and mobile apps and this wins the user's heart. To access the website a user needs an internet connection and if users do not have internet connectivity via WiFi, they are required to access the internet from their mobile phone's internet data.
In mobile apps there are some features which can be performed without the internet such as users can play few games offline, in Spotify people can download music and play them without the internet.
There isn't any contrast or debate that mobile apps are doing remarkably better than websites of every kind. More individually, all the above metrics lead to higher conversion rates with mobile applications.
If you are ready to get your businesses using the mobile app to the next level, we always help you to grow your business. QUACITO LLC will help you create an excellent app with the best mobile app development services.
We have a team of highly qualified and experienced designers and developers to build your mobile applications. Our mobile app development services are pocket-friendly in nature and we only provide high-quality products.
Connect with us today.
Visit: www.quacito.com
Call: +210-695-0795
Summary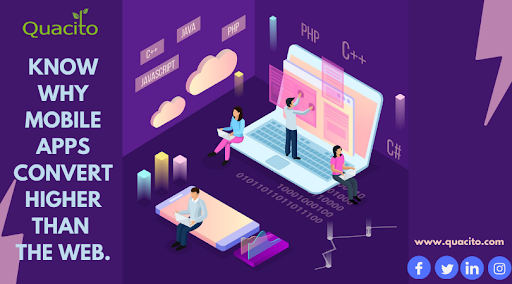 Article Name
Know Why Mobile Apps Convert Higher Than The Web
Description
Mobile app converts more than websites. This has been proven in the last few years for the mobile app industry. Let's know the major reasons for it.
Author
Publisher Name
Publisher Logo