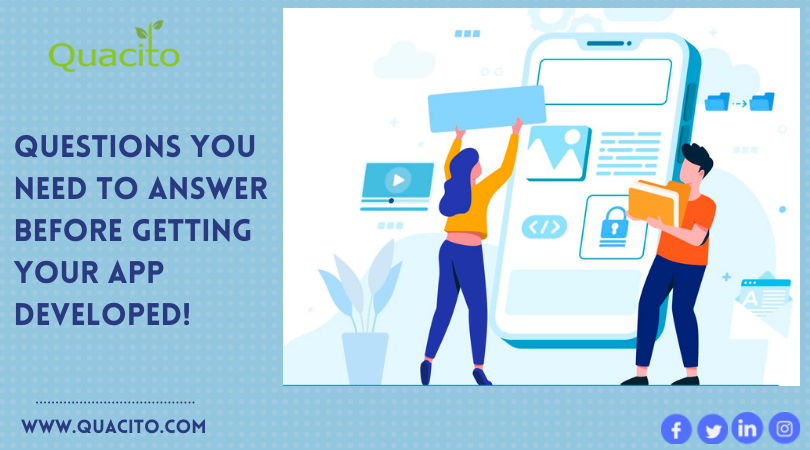 As a custom software development company, we can tell you that many people who come to us for app development in San Antonio, are lost about so many important things that they should be aware of. It is only when the clients exactly know what they are desiring, that the app development companies can appropriately deliver. This is the only way to get the exact application that your business needs.
Although, there is a big possibility that you might be a great entrepreneur, but aren't that good of a person to know the details of what your application should be like! Therefore, in order to help you, and many like you, here's a guide to know what questions you should know the answer to before you go to an app developer to talk about your requirements.
Here's a list of all those questions that'll warm you up, before reaching out to an app developer:
1. Who's the target audience of my business?
Before you think of the features, you need to know exactly who you're developing your application for. And believe us, if you say it's for everyone, then it's really going to cater to no one.
When you know your potential users, you can find out what kind of devices they are using. Knowing the devices they use is highly imperative for development as well as testing.
The questions you need to answer about your target audience are; Their Gender? What is their age? Their Preferences? Their Hobbies? Their Outlook?
All of these questions are very important for building a brand.
Not only this but really knowing who your target audience helps you decide the feature list. When you know exactly what your users are looking for, it becomes easier to put unnecessary features into the backlog. It also helps to focus on what really matters.
On top of all of these benefits, knowing your target audience also helps in choosing your best monetization strategy.
Another set of questions might include- what platform to choose:
iOS, Android, or both?
What versions of the operating systems to choose from?
How big is the target audience? etc.
2. How am I planning to monetize my application?
First, there are many ways of monetizing an application. However, they aren't universal. This means that a strategy that works for one type of application, may not work for another. We can bring it down to four types of monetization strategies for app development:
Freemium
Subscriptions
Paid downloads
Advertisements
Decide your monetization strategy before you start the development. You should know that some features will depend on it. At the same time, please remember that you can definitely go ahead and create your business application, without having to monetize it. In such a scenario, your application becomes marketing as well as a sales tool. You will be using the app to attract new audiences and also to bring in additional value to the already existing clients.
3. What's the deadline I have set?
You need to ask yourself, how much time you have before the release of the application because that will definitely influence the development process.
Always keep in mind that a great application does take its own sweet time to get developed. Of course, this time can be majorly decreased if you are in a hurry. The very first thing to do is to choose only non-negotiable features for your MVP. This means that such features should include one unique feature so that the real users get a reason to install your application instead of hundreds of other irrelevant people downloading it.
A deadline also influences the technologies that you use on your project. It is always advised to plan for application development with native technologies to get the best quality. However, if the deadline is close, it's acceptable to use cross-platform technologies in order to accelerate the development process of the application.
There are many businesses that go on to look for ways for developing mobile applications fast and on a tight budget you just need to choose the best app developer for your requirements. This makes them consider the option of cross-platform mobile app development.
Ask yourself and dig a little deeper to find out, is it reliable and beneficial?
Remember, you'll always find ways that could speed up the app development process for you, but the thing that should be taken into consideration is the quality you need as well as the functionality you'll be wanting.
When it comes to native app development, it gives you access to all smartphone hardware. This means everything from cameras to NFC chips will be available for your application. On the other hand, cross-platform development needs additional solutions for connecting your software to the device's hardware. Sometimes these solutions can even end up causing inconsistencies in your application.
There are many more questions that you need to ask yourself before you go for application development for your business. However, you will only know about those questions if you really dig in deeper. The world of application development is more vast now than ever you should also know why apps get converted higher than websites. This is why you have to be really careful before you start with the process of app development for your business. You never want to be caught in a situation where you go to the developer and you are lost about the questions they are asking you. You should make sure that you are fully prepared to answer any questions that they might have. This will only enable them to make the most appropriate version of the application that is in your mind for your business. The result will be an application that gives you desirable outcomes for your business.
Apart from this, it is also important for you to carefully choose the kind of app developer or outsource app development team that you are looking for depending on the kind of application that you are going to get developed for your business. That's a whole new set of questions that you need to ask yourself.
In conclusion, list out your requirements completely before you go on to hunt for an app developer and tell them your requirements.
Get in touch with Quacito LLC and hire the best app developers as per your requirements!
Website: www.quacito.com
Email: nitesh.jain@quacito.com
Contact: +210-695-0795
Summary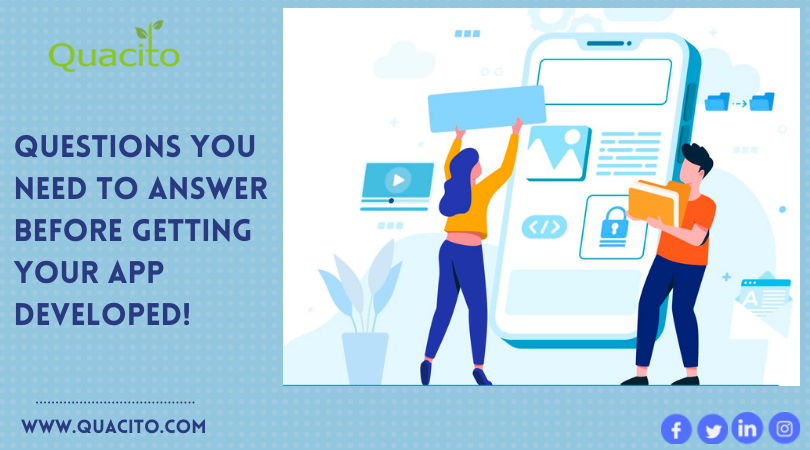 Article Name
Questions You Need To Answer Before Getting Your App Developed
Description
Read out this post to know which questions you need to answer before getting mobile app development services.
Author
Publisher Name
Publisher Logo