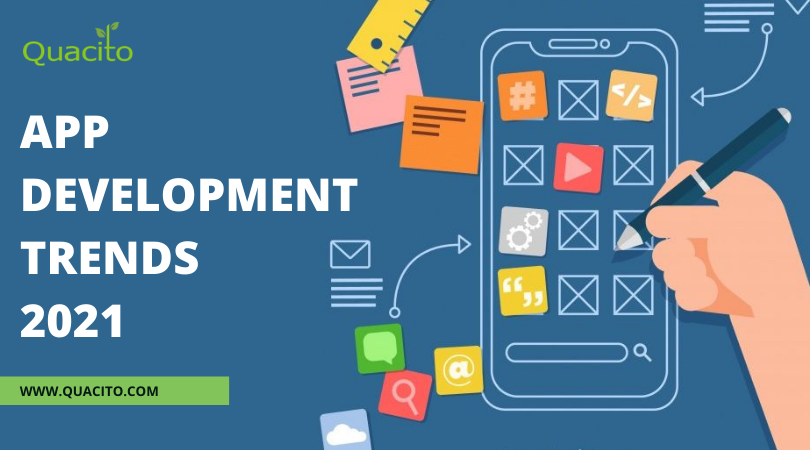 Are you always on top of your game when it comes to technological transformations and updates for web or mobile app development solutions? Well, then this is the right blog for you. After referring to various studies, experiments, as well as calculated predictions, we have drafted this blog to tell you all about the app development trends that will be dominating the year 2021. 
Even if you are a mere user of applications (who is not, these days?), then right here we have a lot of relevant information for you. 
All of us can agree, looking at history, that technology-based innovations have been booming. We all know that there is going to be complete domination of chatbots for customer support, for example. There are many other things that we should be looking forward to, along with this one.    
Statista predicts that mobile applications are supposedly going to be generating about $189 Billion US dollars in revenues next year. On top of that, many experts are saying and have been saying for a long time now, that the mobile application development industry is probably one of the fastest-growing industries out there. In the future too, it shows no signs of slowing down. 
So, the question is, what are the app development trends that you should be sticking to mobile app development in the year 2021. Here's your answer, in the form of a carefully curated list, as an outcome of various researches:
1. Augmented & Virtual Reality- When you think of AR VR, you immediately know they both are cool. In the year 2021, their use will not only be limited to gaming applications anymore. You'll see tech giants all over, innovating many new uses for both AR and VR. Take, for example, Google as well as Apple. Both of them are releasing new Augmented Reality demos when it comes to their latest devices. This is proof that AR, as well as VR, is going to be a game-changer very soon.
Google recently displayed the applicability of Augmented Reality in its popular Maps application. With the help of interactive objects being displayed on the camera interface, the application was capable of delivering an intuitive experience, never seen before.
Such technologies will also be seen on social platforms. It would help in branding and targeting potential customers. We all know how Snapchat as well as Instagram, have released their Augmented Reality filters. They are fun as they can turn a human face into various digital characters for the entertainment of the user.
AR & VR trend examples are as follows:
Augmented Reality in manufacturing

Augmented Reality in marketing

Augmented Reality in advertising

Mobile Augmented Reality disruption

Augmented Reality in healthcare
2. On-demand applications- The famous "On-demand business" model is the future. Studies have clearly revealed that almost all industries are embracing it. Nobody is going to let go of a business model as successful, in 2021.
Statistics show that around 42% of the adult population has used a minimum of one on-demand service.No evidence points that this model is fading away anytime soon. Overall, this trend is here to survive. Moreover, the businesses that choose not to adapt, will surely get crushed by their competition.
Some of the most common on-demand trends in the year 2021 are:
More and more industries embracing the On-demand apps

Shifting focus over to the B2B sector
3. Progressive Web Apps or PWAs – Progressive web applications are those that are web apps delivering an almost complete mobile app experience to their users. However, unlike many mobile applications, PWAs do not need to be installed from the app stores. Neither do they require any kind of significant amount of physical storage space, within your device. PWA has the capability to run directly from the browser. Once it is installed on the home screen, it could even run without the use of the Internet.
The amazing thing about PWAs is that they can operate on a low-bandwidth network. Additionally, they work smoothly on low-spec smartphones as well. There are many companies out there, like Alibaba as well as Flipkart, that have successfully integrated PWAs into their website platforms. Not only this, but such companies are in fact deriving significant benefits out of the same.
The progressive web applications offer an incredible source of new possibilities for people who are looking to have the experience of android applications even in low-spec smartphones. For example, the Google Maps PWA used in the Android Go smartphones. The PWA development is expected to surge in the year 2021. 
Apart from these three main app development trends that will be dominating the year 2021, there are many more like 5G technology, Blockchain, IoT, Cloud, Wearable and foldable devices, etc that you should be looking out for! It is always a good idea to stay up to date with the latest trends of technological transformations. Regardless of the profession that you belong to, it is always going to be a relevant topic in all our lives. 
It is our firm belief that staying up-to-date with the latest trends as well as technologies is the real key to catching up with the changing demands of customers. It would also help in beating the competition or staying one step ahead.
In conclusion, we hope that this blog gives you great insights on the topic of mobile app development trends for 2021.
Here's promising more research-based in-depth insight on more subjects like this.
And for your sake, always stay up to date by reading the news about new technologies, going through great personality's interviews and their opinions about such new technologies, and last but not the least, keep reading our blogs to stay ahead of everyone. This will make sure you're the first in the queue for receiving the benefits of these modern-day technologies! Keep learning!

Most importantly, remember that when your knowledge about the web and mobile app development industry becomes obsolete, no matter what you do, you'll always lag behind, and will either never achieve your goals, or achieve them when it's too late.  
For any more information, get in touch with Quacito LLC!
Visit https://www.quacito.com
Call us at +1-210-695-0795
Summary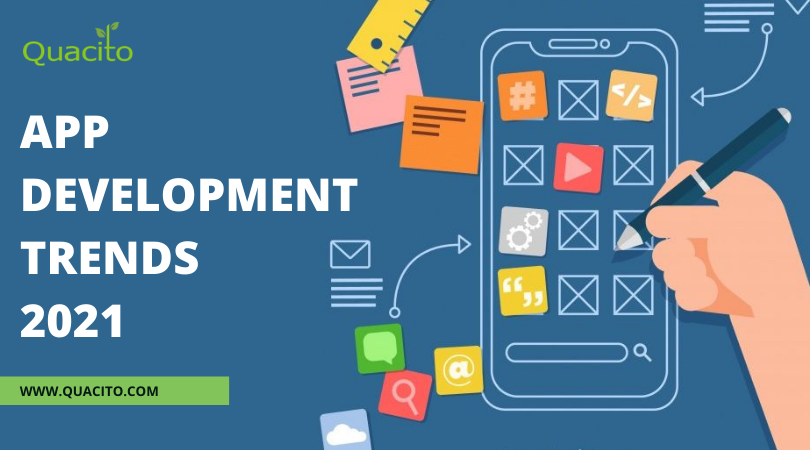 Article Name
App Development Trends in 2021
Description
We hope that this blog gives you great insights on the topic of mobile app development trends for 2021.
Author
Publisher Name
Publisher Logo