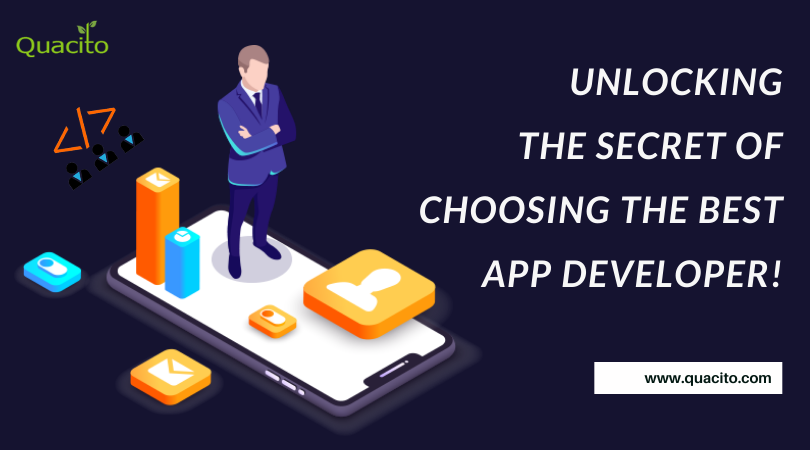 Who doesn't want the best of the best for functional mobile app development services? But, do all of us know how to get that? Surely not, or else, we'd all be lucky! So, are you someone, who's looking forward to having a scalable mobile application? Maybe it is for your business, and you're looking for an app developer. Someone who is perfect for you and your business.  
It is not a hidden fact that there is an exponential demand for mobile app developers out here, in the technological world. It is safe to say that you might have a long list of developers for app development in San Antonio. The next appropriate and frankly, the most crucial step for you would now be shortlisting the best developers for your unique project needs. But, in order to find the best one, there is an imperative requirement to consider some really vital factors relating to app development in San Antonio.  
We've curated a blog for you, that skims out all the amazing factors that many great companies keep handy when shortlisting an app developer for their app development needs in San Antonio. Following these will let you unlock the secret of hiring the best app developer for your business and your projects!
(1) Checking out their portfolio: One of the most important things that you could possibly start your consideration with is checking out the profile of the shortlisted mobile app developers out there. This step might even be taken once while shortlisting them. The reason behind doing this is that it will majorly help you in knowing the past projects as well as case studies that the developer has worked on. It will give you a closer look at their capabilities in a more practical manner. Put in extremely simple words, one can get a clear picture of the abilities of an app developer by their profile. It's quite simple. If their portfolio doesn't really meet your needs, then you can be assured that they won't be the perfect fit for you! So, you'll know it's time to move on to the next one on your list.
(2) What's up with their technologies?: When you're looking for mobile app development in San Antonio, or anywhere really, there are many different applications you'd see, that would be using AI-based chatbots. With time, even the retail sector is adapting AR as well as VR. They are even using beacons for delivering immersive user experiences to their customers. Additionally, such technologies seem to be streamlining their business operations. They also offer many more benefits like these. Therefore, your selected developers must have the experience of using at least one of these amazing latest technologies. The more, the merrier though.
(3) Niche Specializations: There's no use in denying that industries like healthcare as well as logistics hugely demand an effective approach when it comes to mobile app development for them. This means that it is highly crucial to consider the experience of the mobile app developer that you're selecting from your industry. Put in alternate words, the developer is someone who should know all such rules as well as regulations that determine the functionality and latest trends of mobile application development.
(4) Where's the fire?: Often overlooked while selection, this is one of those criteria that play a vital role. It helps in clearly defining the success of your application. In order for you to hire a mobile app developer, there should be a certainty within you, that he/she is genuinely passionate about the development of a mobile app for your particular business. The reason behind this is that such developers would be able to develop the best application. It will be one that suits the requirements of your unique and dynamic business.
(5) It's not about one thing, it's about the package: When it comes to the process of developing a mobile application, it is not only about writing the code for it. The reality is that it is not even about creating a design that is functional and one that gives a great user experience. All this basically means that while you're hunting for the perfect mobile app developer for your app development needs in San Antonio, or even anywhere else, you should be seeing whether he or she is able to perform various functions like design, usability, as well as testing.
He cannot be good at, or only focussing on one aspect of app development. He should quite genuinely be an all-rounder in the world of app development. Always remember, that your business is dynamic, no matter what your industry is. This means that you will have changing needs and the requirement for a mobile app that adapts to those changing needs. Hence, finding a mobile app developer with diverse experience is a great idea!
Apart from the five factors of considerations to look at, you will find that there are many more. Our suggestion is to keep looking for such factors. You are making an investment by putting y0ur money into hiring an app developer for your business. Why not make a decision that you'd be extremely pleased with? 
At the end of the day, be sure about the person you hire. The process of mobile app development is a long and ongoing one. This means that your relationship with your developer will affect your business, directly. Therefore, when hiring an app developer, for your mobile app development needs, consider the above-listed factors carefully. When making the choice, be absolutely sure about the developer you're selecting. Do not be in a rush, run your due diligence, and you'll be very pleased with your decision at the end. 
So, go for choosing carefully, and get an app developed that your customers buy your products from. You'll find that having prior knowledge about this will considerably shorten the total lead time of a given project for you. 
Here's wishing you a happy mobile app development journey, which serves you and your business in the best way possible.
Get in touch with Quacito LLC and discuss your app development requirements with our dedicated mobile app developers! We develop great mobile apps that will surprise you and your business too!
Website: www.quacito.com
Email: nitesh.jain@quacito.com
Contact: +210-695-0795
Summary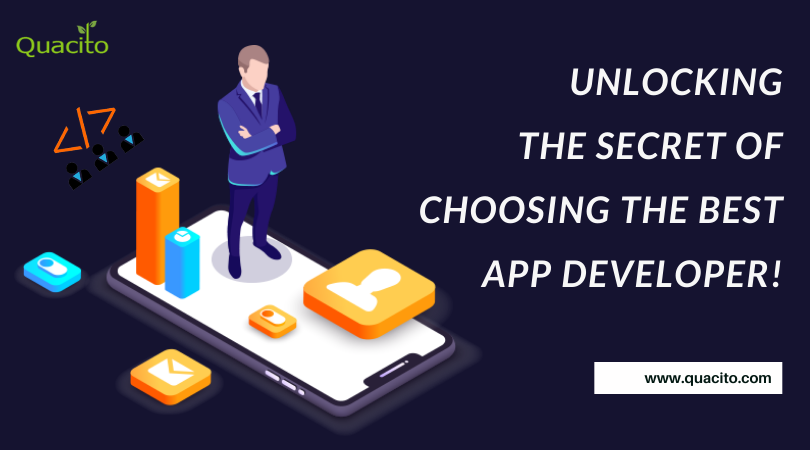 Article Name
Unlocking the Secret of Choosing the Best App Developer
Description
Know the important secrets of choosing the best mobile app developer for your business. We've curated a blog for you.
Author
Publisher Name
Publisher Logo