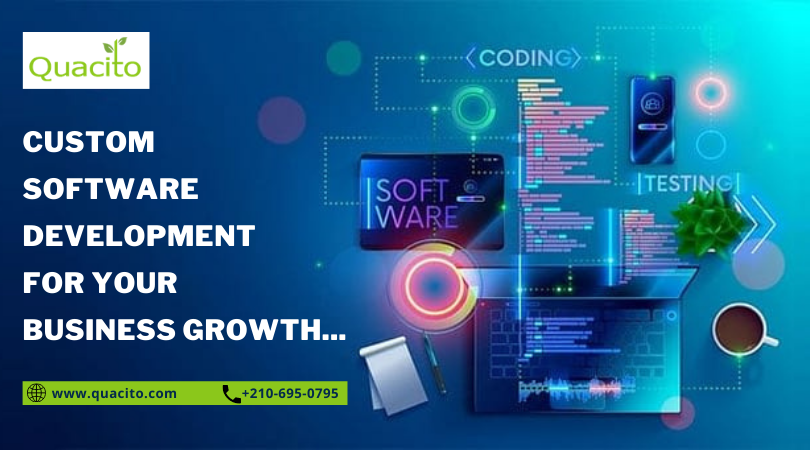 The fact that you've ended up here, to read this blog, might just be the next big step for the success of your business. This could easily be the dose of knowledge as well as expertise that you've been looking for, in order for your business needs to grow as well as thrive, especially in a marketplace that is crowded.
This is where outsourcing comes into the picture. This is what will make at least some of your business operations to be outsourced to other companies. These companies, if picked rightly, would have the knowledge as well as skill sets that you would need for distributing your assets in a much more effective way.
Therefore, choosing the right partner might become a game-changer for your business. Soon, you'd witness it becoming the very key to your business. Additionally, when you work with a suitable partner like a custom software development company, can majorly complement the core skill areas of your business. It will also help in saving resources, as well as in saving time and building your product portfolio all at the same time.
Now, let's talk about one of the key areas where outsourcing may have the biggest effect on a business; custom software development. This does not just become a resource-saving option. Although that can genuinely become a key part of it, it can also be a way of taking your business to the very next level.
In this blog, we have listed some great ways in which a partner custom software development company could be greatly beneficial for your business.
(1) Solutions that are seamless for needs that are specific: When you're thinking of an effective software development company to partner with, you should consider that they should be able to work very closely with you as well as partner on your projects in the most seamless way out there. For some businesses, this becomes an obvious concern. Sometimes, partner companies will not be able to completely integrate or even understand the business' core needs. However, when it comes to a professional software development company, that is well equipped for this purpose, it would not only understand the technical side of this industry, but it would also recognize the need of communicating as well as collaborating with you. It would make an effort of fitting nicely into the routine as well as working practices of your organization.
Don't you wish you had a dedicated team that is capable of handling all your IT wants at a lesser price? Then, consider partnering with a professional as well as reliable custom software development company.
(2) Integration that is enhanced: As a company, when you choose any new kind of technology or software for implementation, you may face a different range of issues. If you're a company with very little or no experience at all when it comes to implementing these kinds of systems, then this right here can potentially be a really big problem for you and your business.
The good thing is that you can choose to partner with software professionals. I this way, you could even improve the integration of any kind of new system into your business operations. Regardless of it being for accounting, IT or communications, stock management, etc. There are software packages for kinds of areas of a business. These could vastly help you in working smarter as well as better, all over!
(3) Let's talk about the UX: We all know that it does not matter whether it is for external or internal customer-facing use. What really matters, and becomes the most critical element of any business is the user experience that it delivers. This means asking questions like, how effortless is it to navigate or find what you want? Also, how does the platform perform? Are there glitches that cause issues and would hinder the experience for the user?
When you're working with a great team of extremely skilled professionals, your business would far more likely work with custom software that is UX designed as well as tested, to provide the best experience to your users!
(4) Costs get cut: It is a golden rule that you have to invest to get a return out of it. It's one of the most basic principles of any kind of business. However, you'll often see or observe that some small business owners still keep complaining about the costs of the outsourced support that they hire. The reality is that with the right kind of help hired, a business can make some huge savings, when looked at, in the long run.
(5) Protection that is enhanced: Two very important keys to the success of any business are safety as well as security. These are being mentioned in terms of your business' data as well as information. This also means the data and information that belongs to your clients. If there are any breaches at all, they can be really damaging. It could potentially cause very lasting damage to any business. When you work with a custom software development company, you would be getting the added bonus of having tighter security measures. This kind of enhanced security can prove to be a real bonus and would give you great peace of mind.
The bottom line is that when it comes to finding a custom software development company that can offer all of such services, it will eventually save you a huge amount of time as well as money in the long run. When you are working with a team that you trust, and that gives you access to a pumped as well as like-minded group of people, ones who understand what you're trying to achieve here, then the business life would look good.
When you think about skilled custom software designers and developers, know that they can work with all kinds of businesses. Whether the business is big or small, it doesn't matter. Whether the business is modern or traditional, it doesn't matter. They have the capability to engage as well as connect with any type of project they choose to undertake for you.
Get in touch with Quacito LLC now!
Visit: www.quacito.com
Call: +210-695-0795
Summary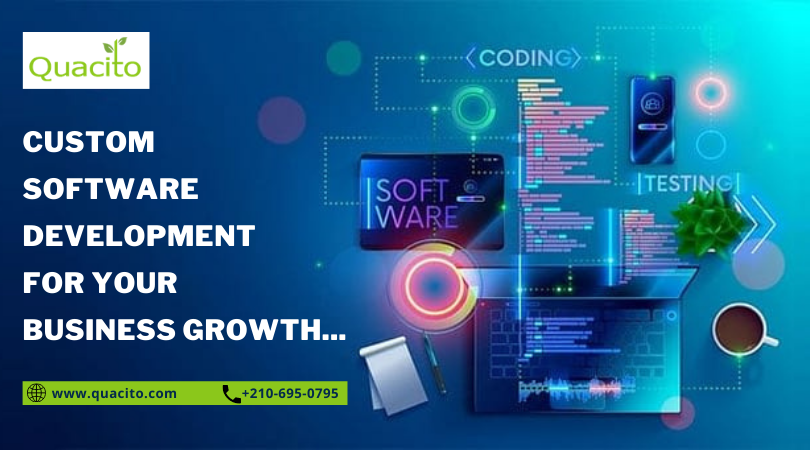 Article Name
Why Custom Software Development Company for your Business Success
Description
Are you looking to partner with a custom software development company in San Antonio to bring success to your business? Read this blog!
Author
Publisher Name
Publisher Logo