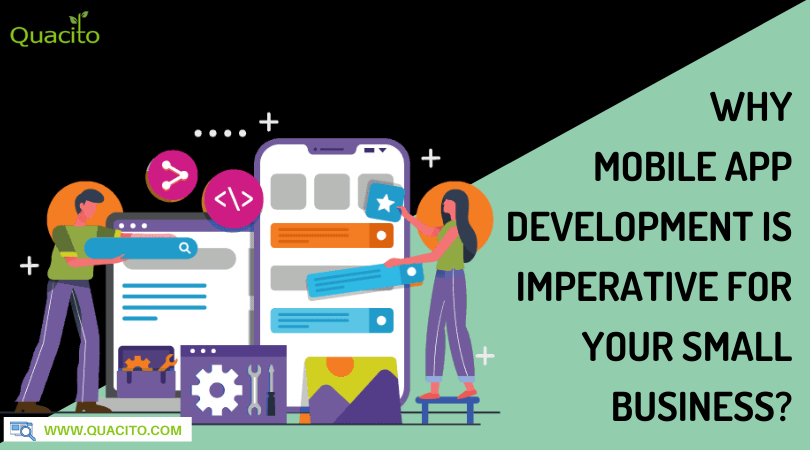 Whenever you make the decision of getting a mobile app developed for your business, you eventually start creating loyal customers for your business. In this case, whenever someone has to visit your site, they just have to tap an icon on their smartphone screen.
This means that the user interaction will be absolutely open. It will be two-way as well as ongoing. Your customers will also see push notifications that will enable on-demand communication. If you think about the long-term benefit, the thing that you will be leveraged with the mobile app of your business is engagement. Apart from this, you will create loyalty, as well as ease of use.
In this blog, we will be going into the details of why you as a business owner, absolutely cannot afford to ignore the benefits of mobile app development in San Antonio or anywhere else in the entire world. Mentioned below are a few of the extra-added advantages that your small business may leverage, only and only if your business has a mobile application developed for itself.
(1) Elevates Your Customer Engagement:
One of the foremost crucial benefits of mobile applications for small businesses is customer engagement. This is something that helps create an immediate marketing channel between your business and its customers. Therefore, this entire thing will end up allowing direct as well as effective communication between the business and the customers of that business.
Additionally, with your mobile application, you will install as well as send push and in-app notifications to as many purchasers as possible. This will enable your target audience to buy your products at any given time. Besides all this, the notifications you send out, also carry really important as well as relevant information. This will make your customers get attached as well as become loyal to your brand. They can then choose your offerings whenever they are in the need of doing so.
(2) Increase your business' accessibility:
Here's another really important advantage of mobile applications for small businesses. They improve small business accessibility. Basically, they allow the small businesses to be ready to send out notifications about what is new or what has changed in their services as well as in your products.
Not only this but mobile app development services in San Antonio would equally allow small businesses to be ready for building a robust relationship with their customers. This might allow the event of a real customer base as well as powerful loyalty. Small businesses also get the opportunity of establishing strong relationships by offering special discounts for their old customers. What's more? All of this can happen within the mobile app that they have developed for their small business.
(3) Provide Additional Value to Your Customers:
Mobile applications hold the power of making it possible for any business to digitalize any kind of loyalty program that one could not simply do before. With your own mobile app for your business, you could also be offering your customers a lot more of those.

Isn't it going to be super cool if your costumes can receive their rewards via your business' very own mobile application?
(4) Completely Transforming the Retail Experience for Your Customers:
When you have a small business mobile app, it also helps in transforming the entire retail experience for all the users of the application. Therefore, this enables the retailers to stay in front of the customer's expectations. This entire process is carried through the delivery of an absolutely unique customer experience.

On top of this, these kinds of business mobile applications help to drive a digital process, which may even invariably hamper the store cost as well as increase profitability. There are many businesses that are built as well as based mainly on mobile applications. In their case, this is what helps in scaling back the overhead cost, which is related to the standard brick & mortar establishment.
(5) Enjoy Building Brand Awareness & Recognition:
The mobile application that you get developed for your business would become a one-stop solution, as it would provide all the relevant kinds of information that will be associated with your business as well as with your brand.

Additionally, it will help in demonstrating your business' products as well as the services you offer, 24/7 in front of the right audience's eye. In turn, this will result in boosting your sales growth massively, over a small period of time. This is why mobile applications for a small business can hugely contribute to increasing the brand presence of that business.

Therefore, the bottom line to all this is that mobile application development is highly crucial in this era where more and more people are depending on technology for their everyday tasks. If your business is not visible to people on their phones, in a simple manner, it is hardly ever going to beat the competition in this dynamic business environment! So, think hard, and decide when and what kind of mobile app do you want to get developed for your business.
Choosing the best app developers for this requirement is imperative too. This could decide how much people would actually enjoy using your mobile application. Do your due diligence before you make the decision of hiring any developer for the job, Make sure they understand your requirements. Moreover, also make sure that they connect with your business values, and have the capability to bring the same into your small business' mobile application.

Do not forget, there are many more advantages to developing your business application, that we have not mentioned in this blog. Go for it, and do this right!

All the best, and happy mobile app development!
Get in touch with Quacito LLC
Visit: www.quacito.com
Call: +210-695-0795
Summary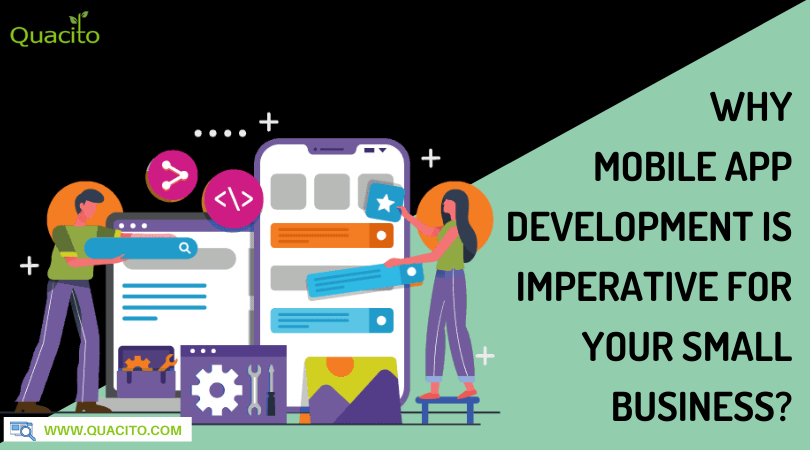 Article Name
Why Mobile App Development is Imperative for Your Small Business!
Description
Do you want to know why mobile app development is imperative for your startup or small brand? Continue to read this blog.
Author
Publisher Name
Publisher Logo