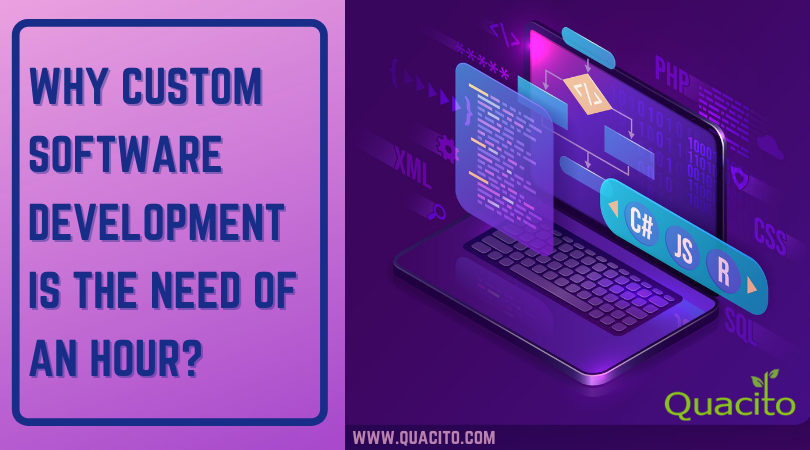 Running a business nowadays has become tougher and technology advancements have been becoming diverse. Technologies are bringing several big opportunities for companies and brands to enhance their business activities. In the past, buying off-the-shelf software solutions to run a small or large-sized business was all that was required for the business owners. However, in the year 2021, many of these cookie-cutter software solutions have become unreliable, inadequate, and of course inefficient. Current advancements in the tech industry are giving facilities as per our requirements because they are speedy tech upgrades; many business organizations now require customized software to streamline their business operations. This need increases the demand for custom software development services and according to a study, the custom software market is going to increase by $26.74 billion between 2019 to 2024. Software development itself has the potential to benefit activities of almost all kinds and it helps you give an edge over your competitors.
In this blog, we will look at how custom software development is the need of the hour and helps in business operations.
1. Market Analysis
We all know, consumer demands are constantly changing. Even at a particular point in time, people's needs and market demands vary across genders, age, cultures, demographic location, and more.
And, software development companies are working towards these goals. Businesses can analyze changing customer needs and function accordingly through software development solutions. This is possible through custom software applications designed by pros and it should help data research experts.
2. Highly Secure
The dreaded H world…… Hackers across the world often try to hack software systems with bad intentions. These hackers have commercial software applications to target first because they are not able to target custom software designed exclusively for the enterprise or the company. Industries can't compromise on the security of their data and cyber environment. That is why to ensure data handling and payment systems, business owners hire custom development services to get complete control over the security technologies and protocols that are integrated into the custom software to grow their businesses. About 65% of the software developers are using programming languages such as JavaScript and C++ in the process of creating software and many of them are making use of blockchain technology to create highly encrypted blockchain systems. In this way the data stays safe from cyber attacks and payments can be done with utmost security.
3. Better Integration
Across 60% of businesses use different software systems across varying departments be it sales or customer support. This often leads to integration and compatibility issues with off-the-shelf solutions as it reduces the efficiency of the application and productivity becomes zero.
With custom software development, several processes can be handled effectively by integrating multiple systems into one centralized software program. An enterprise custom software can be easily deployed into existing systems and developers can design them to accommodate any user's skill level. Businesses can also use custom software to extend the functionality of tools that are already in place.
4. Better Productivity & Efficiency
You probably read that sub-title and thought, does it improve productivity? Although, software developers are focusing more to design software that meets business needs. The software should be developed in the way that the business functions. With these criteria in mind, small, medium or large businesses can achieve better flexibility and efficiency.
This technological advancement can help you in the automation of repetitive tasks and enhance collaboration within an organization. The increase in efficiency and productivity of the business is the only reason why custom software is a popular choice among large enterprises.
5. Hardware Costs
Opting for off-the-shelf software often means business owners need to purchase additional hardware to make it run efficiently. This often leads to an unexpected bill at the end of the day.
With custom software, current hardware capabilities are taken more into consideration because it helps you save money and avoid extra costs. Customized software applications are deployed into the hardware in a way that supports your enterprise business so no one can be forced to adapt to what's available.
In tailor-made software, development and integration should consider every aspect of your business in order to make implementing the software as flawless as possible.
6. Greater Personalization
Another reason, to choose custom software is the need of the hour for business industries is, it benefits companies with the ability to personalize the look and feel of their own software. Hire the best software development companies to get the custom-designed software that helps fit software perfectly into your company's workflow. Another reason to go for this, that they develop software specifically for a certain person or organization. However, the best-in-class business software design helps the design and develops a system that is aligned with your current business model and thus, helps in promoting the uniqueness of your brand or organization.
7. Makes you Unique
In this fiercely competitive business world, every entrepreneur or established company owner needs to demonstrate its competitive advantage. Bespoke software has become a popular way of differentiating yourself in the market and allows companies to deliver products/services in a way that none of their competitors can. So, never misjudge the power of distinctiveness, it can make or break your business immediately.
Final Thoughts!
What do you think? Do custom software developers work wonders for your business? Well, the answer should be ''YES'' because it is a great strategy for businesses with unique needs. You can leverage the benefits of your custom software development to play a vital role in this race.
The high productivity and efficiency that you gain from customized software give you a competitive edge over other companies that employ poorly optimized solutions.
At Quacito LLC, our talented technology-driven team helps you design and develop software that can help your business or brand to reach its full potential. Regardless of whether you need custom software development in San Antonio for inventory tracking or tools to properly manage your clients or to solve customer queries, our software developers in Texas provide you with a custom solution for your business that is beyond your expectations.
Contact us today and share all the requirements of your custom software development project!
Visit www.quacito.com
Summary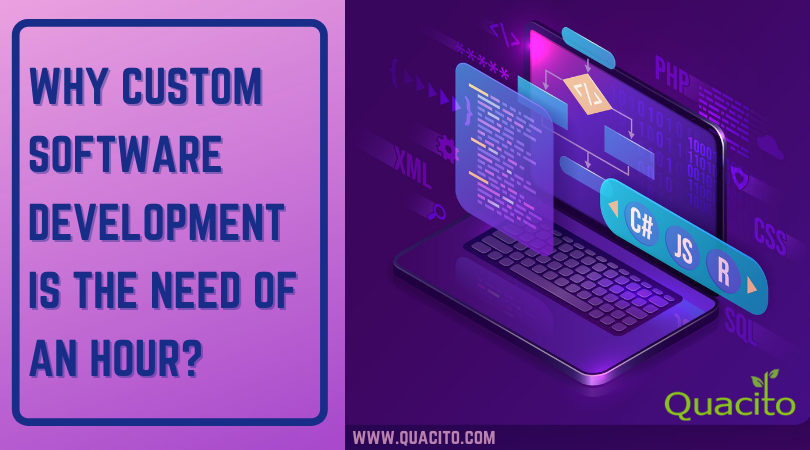 Article Name
Why Custom Software Development Is The Need Of An Hour
Description
Read this blog to find out how custom software development is the need of the hour and helps in business operations.
Author
Publisher Name
Publisher Logo