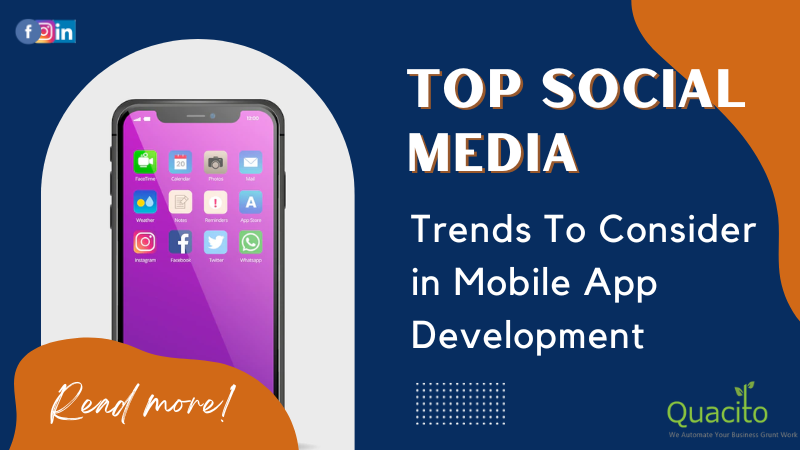 There was once a time when nobody expected social media to grow exponentially. This was in the early 90s. At that time social media was a place to communicate as well as connect with each other. However, it has now become a marketplace for you to promote your business, provide any kind of services as well as attract customers. When it comes to mobile app development it is truly a whirlwind industry. This is because it is an industry that is evolving at a very fast rate. It has the capability of digitally transforming businesses as well as operating models and marketplaces into a lead-generating system altogether. A mobile app development company in USA has to deal with the skill of applying as well as tracking down the running trends. It has to majorly focus on adapting to the digitalizing era's technological side. 
This revolution of engaging as well as evolving along with boosting sales and communication while growing on the internet by mixing new trends as well as updates can be really complicated. All mobile app development companies can do in order to provide their best, is to stay connected to the most trending software development technologies.
This blog can help you do just that. Following is a list of the popular and emerging trends that can make a mobile application development process better:
1. VR: this technology stands for virtual reality development and it aims at enhancing engagement as well as user experience. With the help of VR, a mobile app development company can easily streamline a combination of images as well as immersive augmenting senses. It provides a mesmerizing workplace experience while boosting productivity as well as uplifting the satisfaction of the users. 
2. AR: it stands for augmented reality development and aims at bridging the gap between real experiences as well as the human world providing more than real experiences. The goal of augmented reality development is to promote websites as well as create a process of social media influencing through brands. All over AR develops an exciting experience while inculcating engagement by occupying the social networks and even nudging the mobile app development industry. 
3. 5G: this trend basically brings a higher resolution, better performance as well as less latency that has proved to bring significant improvement in the process of data transfer. The best part is that it creates more and more opportunities for the technologies like virtual reality and augmented reality as it provides an integrated technology space for such trends too. 5G is significantly making mobile applications faster, efficient as well as secure. It hugely helps with the process of mobile application development, if used correctly. 
4. AI: this trend has proved to reposition the benchmark while giving the users an automated and rich experience. AI brings effortless Ness in the functioning of advanced technologies that propel expectations to a whole new level. The implementation of AI-based algorithms has also been proven to be useful when it is done to protect sensitive information of users as well as reduce the number of data breaches that are happening. Not only this but artificial intelligence also helps in preventing identity fraud as well as anti-malware software. 
Generation of user-based content: this is a trend that is instilling traction ability between brands as well as clients. Not only this but it aims at understanding the preferences of the target audience in a better way and eventually emerging with worthy content. It also focuses on engaging the customers with the help of curated content that increases the personalization of the brand. 
Remember, these are just some of the software development trends that could be used in mobile application development. Apart from these there is much more waiting for your exploration. Keep digging and you will find lots and lots of information on all of them.
Also read: Why is a Progressive Web App The Future of Mobile App Development?
After reading so much about the top social media trends that a mobile app development company could benefit from you still have to remember one very important thing. While the app developers are developing a mobile application they need predictive analysis. Basically, this process includes personalizing the product recommendation for the users out there. It helps in generating data as well as analyzing the current and historic activities happening on the mobile app with a little bit of guesswork involved. It can lead to improving the experience of the user by personalizing their use throughout the mobile application as well as optimizing the entire development process with the help of the data that has been gathered and resolving issues by using better alternatives as per the suggestions that have been received. This would also significantly cause a reduction in the time taken to deliver the best innovations. Not only this but it would also help in identifying risks of the companies and would eventually increase engagement and bring future outcomes that have positive results.
The emerging digitalization in the mobile application development industry, along with all the latest techs as well as backend services of the mobile application, along with new capabilities steering the mobile app solutions, constant awareness as well as continuous learning are all the things that are running in the app developing industry. Enhancing the engagement of the customers is highly imperative. All you have to do is keep up with the trends and, make sure you apply them to your development process, fearlessly. 
In order to do that, you should keep reading such blogs watch videos that can help, and even see tutorials that will guide you as to how you can apply these new technologies to your mobile application development process. As a good developer, you will have to always be on top of your game. 
Summary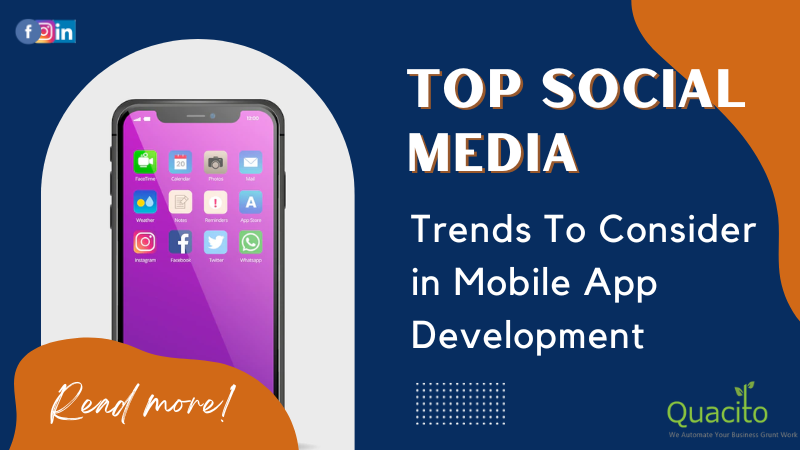 Article Name
Top Social Media Trends To Be Used In Mobile App Development
Description
Following is a list of the popular and emerging trends that can make a mobile application development process better.
Author
Publisher Name
Publisher Logo