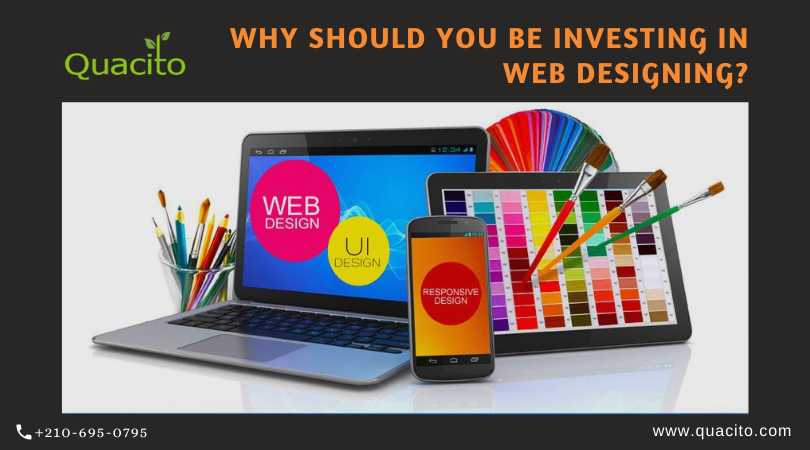 If every visitor had only 15 minutes to consume your content, the majority of them would prefer seeing something designed beautifully, rather than something plain, simple and boring. Your website design is a very important part of your online marketing presence. In order for you to build a better website, you should understand the importance of great web design & development and why investing in one is crucial.
So, in this blog, we are going to first discuss why web design is important.
Here goes:
When you think about redesigning your website, you might start to wonder about the importance of it all. You would ask yourself questions like 'What impact does it have on your audience and your business?'.
Therefore, let's look at three reasons that tell us why website development is important.
Setting the first impression
At the time when your audience is visiting your website, it quickly becomes the first impression of your business. They judge your business within seconds, based on what they can see. These are the few seconds in which you would want to make a positive impact on your audience.
If your website design looks outdated or unappealing, the audience would immediately hold a negative impression of your business. This means that they would not find the website appealing, which would eventually deter them from the page altogether. Next, you'll be missing out on leads since they'll leave your page for a fellow competitor's page.
Therefore, web design is important as it impacts how your audience would perceive your brand. The impression you make can get them to stay on your page and go on to learn about your business, or it can make them leave your page and turn to your competitors. Great web design will definitely help you in keeping your leads on your page.
Aiding the search engine optimization strategy
There are many web design elements as well as practices out there, that influence how one publishes content on their website. This, in turn, would affect how the search engine spiders crawl as well as an index that particular website.
This becomes one of those imperative things that you absolutely cannot afford to mess up. In case of your on-page SEO fundamentals not being up to snuff, you will end up fighting an uphill battle for mere visibility, from the very beginning.
There are certain web design elements that have the capability to directly affect SEO in and of themselves. Therefore, web designs can actually be tough to understand, in case you're not familiar with how it all works. However, to put it in a very simple language, the code needs to be SEO-friendly.
And, the best way of ensuring proper web design practices with subsequent search engine visibility, is to go ahead and partner up with a web design agency that knows what they're doing, and have a lot of experience in the field.
Setting the impression for customer service
There are so many people out there, and as visitors to your website, they can easily go ahead and judge how they will be treated by you, just by looking at your website. The web design gives them insight. They get to know a little something about how you view your audience. If you were to put no effort into your website's design, then your audience will very quickly know that you would not put effort into helping them either.
Therefore, one can say that a website acts as a customer service representative. If the website design is modern, bright, as well as inviting, the audience/visitors would feel more welcome on your page. 
This would give out the impression that you're open as well as welcoming to new people who are currently visiting your website.
At the same time, looking at an outdated as well as the unappealing site would make the business appear cold as well as aloof. Visitors so not want to check out a business that does not hold any value for them, even enough to make a good first impression on them.
All in all, when it comes to your website design, you should think of it as the digital face of your business. An updated, welcoming as well as modern web design, becomes the equivalent to a friendly face greeting new visitors, at your physical location.
 Now that you know why it is important to invest in great website design & development in San Antonio, also have a look at the  6 important elements of quality web design below:
Navigation that is Solid

Design that is Responsive 

A Great Style Guide

Visuals that are Purposeful 

Call-to-action (CTA) buttons

Page speed
To get the right web design, San Antonio, you have to get in touch with the right kind of people who can help you. For example, Quacito LLC is a company that has a great team with a skill set that can work on your requirements. They can help you create a web design that looks so appealing, that no one would want to leave. As a result, you'll have more visitors learning about your business rather than jumping off to the competitor's page. 
If you think it's finally a great time for you to take a step towards investing in great website design in San Antonio, get in touch with Quacito LLC at https://www.quacito.com/, or +1-210-695-0795.
It's time to welcome your site visitors in a way they deserve. It's time to give a new face to your business and start booming your business with this small yet imperative change! 
Summary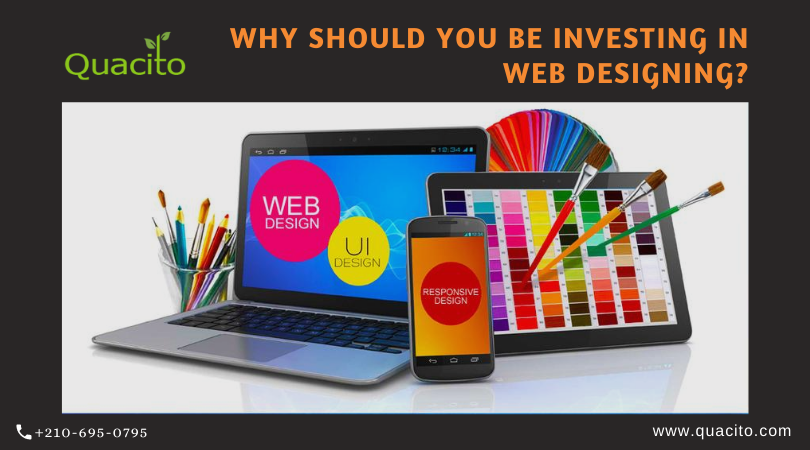 Article Name
Why should you be investing in web designing?
Description
website design is a very important part of your online marketing presence. In order for you to build a better website, you should understand the importance of great web design & development and why investing in one is crucial.
Author
Publisher Name
Publisher Logo