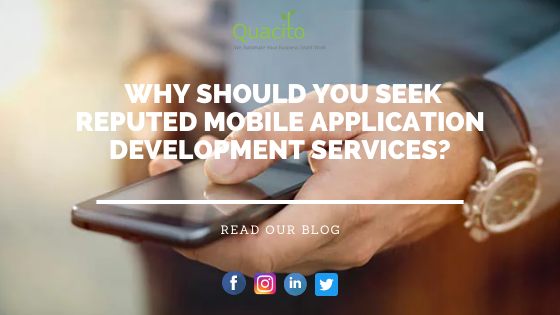 The world of mobility has changed the way we live, the use of mobile apps has become a necessity for the users. Due to this, businesses are moving forward to develop a mobile app to prosper.
All of us are aware of the advancement in technology and it has weaved together our social as well as professional lives. Similarly, mobile applications have been used to improve work productivity and efficiency by enhancing UX, bringing a higher return on investment, propelling sales, and gaining profits.
When an organization is involved in mobile application development and deals with all sorts of customers and clients globally with a broad range of mobile apps, it is very important to partner with the trusted app development company rather than spending a higher amount of money in building an app on their own or employing the services of a freelancer.
Professional mobile app development companies have years of expertise that give an edge over individuals that can really help you in boosting your profit in a qualitative and timely way.
The biggest question business owners have is, what are the things to consider is hiring professional mobile app development companies for their projects? Let us find out by going through the important parameters that our experts personally believe in and understanding the key factors in choosing the best mobile app developer who can meet your requirements and financial budget.
Qualitative end product
Professional developers who provide App development in San Antonio usually work with big clients and are highly qualified and skilled with great knowledge in their industry. So, if you choose to get your app built by them, you will undoubtedly get a quality application that will eventually result in a professional, user-centric app for your company, which may have no maintenance and would extract more value out of it.
Access to cutting-edge technology
The IT sector is dynamic and it keeps on evolving day by day. Today's cutting-edge technology could become outdated in the coming three to four years.
That's the reason to choose an app developer for Android, iOS (Please make sure you always write iOS like this), and Windows mobile applications that can adapt quickly and meet all the business requirements. We at QUACITO are deployed with cutting-edge technology and all the tools which enable us to switch to the latest techniques swiftly without a huge cost.
A focused and dedicated team
The process of mobile application development is not easy. Every business seeks a team of trained and dedicated developers, designers, AB testers, and project managers to deliver stunning results. This is a great advantage that you will have when hiring a mobile app development agency. They have a big in-house team who are focused and thoroughly understand your requirements before working on your project. After assessing the different aspects of the project and features of the mobile app, they will deliver an application that surely fulfills your business goals.
Always available
A freelance mobile app developer can be an employed person who is seeking part-time work and extra income. As a result, he or she will not be able as per your comfort. But when you hire an in-house mobile app development expert you will get your work on time whether they fall ill. They transfer work to another developer when their team member fails to perform a task regardless of any reason. Professional experts try to fulfill the given deadline of the client and therefore minimize the level of disappointments.
Hiring a reputable company can also give you post-development services, support and maintenance on your mobile app. They assure you don't get stuck anywhere and your work continues seamlessly.
High-End security
A professional mobile app development company in San Antonio, like Quacito, builds security into each step of operations, including customer data handling, patch management, upgrades, code release, security policies, and more. Our team ensures full confidentiality of the user's important data, using a high-grade end-to-end encrypted system that results in mobile application security and reliability.
Flexible engagement
As the best mobile app development in Texas, we believe each of our project comes with different needs and they require different engagement models every time.
So, along with providing fixed costs to the client, we do provide flexible engagement models which are on the basis of hour, week, month or project-wise custom cycle.
Now you understood the key parameters of why you should hire a company for mobile app services. Know how our mobile app development services can grow your business.
Quacito will be a dream company for your project. We offer android, ioS app development services across the globe. You have a partner that you can count on for an application-based project.
An industry leader
Being a pioneer in adapting the latest mobile app and software development technologies, Quacito has emerged as an industry leader in the field.
Empowered businesses
Harnessing our power of team members' expertise, skills, and knowledge, we empower our international clients and help them reach their targets.
Client centricity
Starting a project from the beginning to the ending with deployment, we work with you through every phase of mobile app creation. Each and every step of ours is client-focused which gives a strong competitive edge.
Domain Expertise
The Quacito team has in-depth knowledge of every industry and the latest technologies enable us to deliver successful results. We provide a full range of mobile app solutions for a wide variety of niches.
We offer you top-notch mobile app development services, from conceptualizing to the promotion and maintaining of a mobile app. Whether you are an upcoming business player or an established enterprise, we have customized strategies for every client because we strongly know that every business is different and thus, every requirement has a different solution. Therefore, we offer custom mobile app development services to deliver the industry's best solution.
Our Native app developers have rich experience in creating apps from various industries that will help you expand your reach. And widen the customer base by offering undoubtedly the best user experience with feature-rich mobile apps.
We also handle the submission of the Apple App Store and Google Playstore by optimizing your mobile app for search engines. Have an idea? We deliver mobile apps that solve problems. Contact us now!
Summary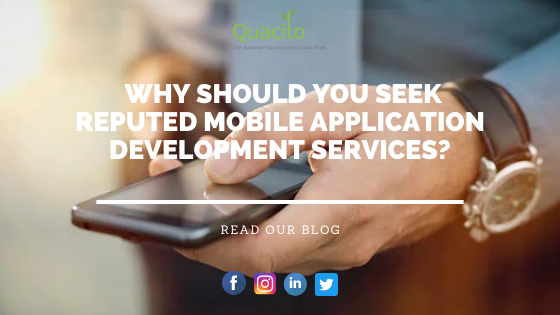 Article Name
Why Should You Seek Reputed Mobile Application Development Services?
Description
The world of mobility has changed the way we live, the use of mobile apps has become a necessity for the users. Due to this, businesses are moving forward to develop a mobile app to prosper.  Read out the blog to know why hiring a reputed mobile app development company is must!
Author
Publisher Name
Publisher Logo