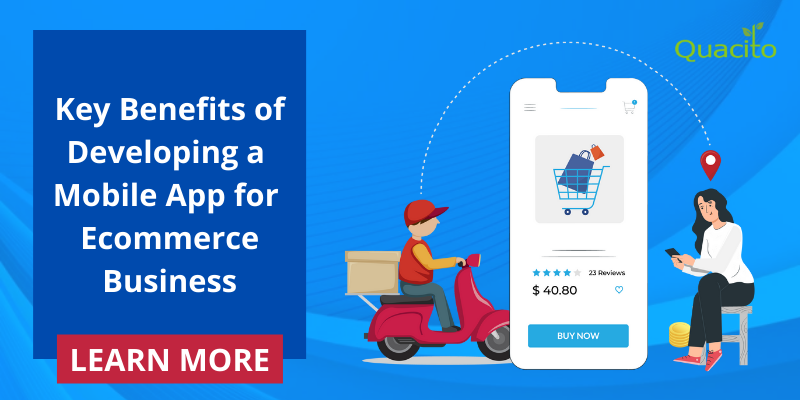 If you're currently running with the pace of this digital world, you might have heard that having a website for businesses is not enough and those days are gone when business owners used to prefer roadside advertising, email marketing, social media promotion, website banners, etc to attract a large number of customers for sales.
With the context of increasing online sales of products/services, the e-commerce industry is booming and there is significant growth through mobile solutions developed and launched in order to provide 100% customer satisfaction. People required the freedom to purchase anything, anywhere, even on the go. This is why more e-commerce stores are launching mobile apps as they offer high speed, convenience, and adaptability.
According to Statista, about 55% of online users use their mobile phones to do online shopping, even while shopping in-store, they compare prices using their mobile devices.
Moreover, according to the world's most used e-commerce platform-Shopify, mobile phones and tablets were the two most preferred channels on Black Friday and Cyber Monday sales, accounting for 69% of total sales.
These are the figures that let e-commerce companies develop mobile apps to connect retailers with their customers thus mobile commerce is growing exponentially these days.
Let us discover why building an adaptive mobile app with excellent UI & UX is important for eCommerce businesses.
1. Builds Brand Loyal
Shoppers prefer to search on the Internet before buying any goods. They access websites and when they find them valuable and trusted, they just install the mobile app on their device to buy products. It shows the high level of customer engagement and it is noted that customers spend at least two hours on mobile apps in comparison with eCommerce store websites.
Native Mobile apps are an easy way for customers because they get personalized services that the website doesn't offer. By offering a personalized mobile experience every time to the customers, your brand will have a list of loyal customers that results in more sales and a high conversion rate.
As per experts, loyal customers are essential for the online success of your eCommerce company and to keep your customer loyal, you can start a loyalty program that helps to attract and engage customer retention.
2. Increase Brand Recognition
One of the key benefits of choosing mobile eCommerce app development is increased brand visibility in this digital world. Using mobile eCommerce platforms, the brands find the simplest way to connect and engage with their consumers who spent a lot of hours on research. Small screens usually make us irritated faster and in fact, 30% of users uninstall mobile apps from their devices if they don't find them user-friendly. This leads to a bad user experience and this is why top brands in India like Nyka, Adidas, Skechers, Zara offer the best quality and easy mobile app experience to their users.
Users will also get amazing opportunities to get push notifications with special deals, discounts and giveaways from the brands. This means they can save their hard-earned money, and they are likely to interact with your shop on a regular basis.
3. Loads Content Faster than Websites Do
Few online marketers understand that the slow loading speed of a website is able to kill their business soon and even customers hate high loading sites. According to kissmetrics data, if a website speed is more than 3 seconds, 40% of visitors will switch to another site right away. This is the solid reason why eCommerce stores have to come into this game fast to build a solid core of loyal audience and mobile app development company like INFOCRATS is working to build mobile e-commerce apps that are responsive. Having a mobile app for your online store helps users browse products/services easily and a good user experience indicates a good conversion rate.
4. Better Efficiency
As a rule, mobile apps are more user-friendly and flexible than eCommerce websites. Although their implementation is expensive, you will likely quickly pay off and increase the number of sales. The correlation is simple: a professional, trusted mobile app with the right concept and functionality brings more loyal clients, more clients result in more purchases, consequently, you will see increased revenues.
In addition, the feature of push notifications given by app development India companies is an effective way to increase sales and maintain brand value. By enabling push notifications e-commerce businesses can instantly share essential information with their buyers and inspire them to place immediate orders.
5. Contactless Payments
With the rise of mobile contactless payment technology in the eCommerce industry, stores are preferring to offer convenience, speed, and security to their users for making payments on their orders. Through this technology, users don't need to take their wallets out of their pocket to take cash or credit/debit cards at the time of checkout. Simply, they can connect their smartphone to the payment terminal and they're done with the order! It is especially important during this coronavirus pandemic as people are preferring contactless delivery.
Conclusion
Now that you know the importance of a mobile app for an eCommerce vendor, it's time to get your business off the ground. Building a reliable mobile app for your eCommerce store may increase your online presence and establish a strong clientele.
For the first step towards gaining conversions and growing your business, you need to find a reliable business partner.
At QUACITO, we can help you connect with the top mobile app developers in San Antonio who will help you take your business to the next level. Our team will escalate your sales process, branding goals, improve engagement and boost sales.
Summary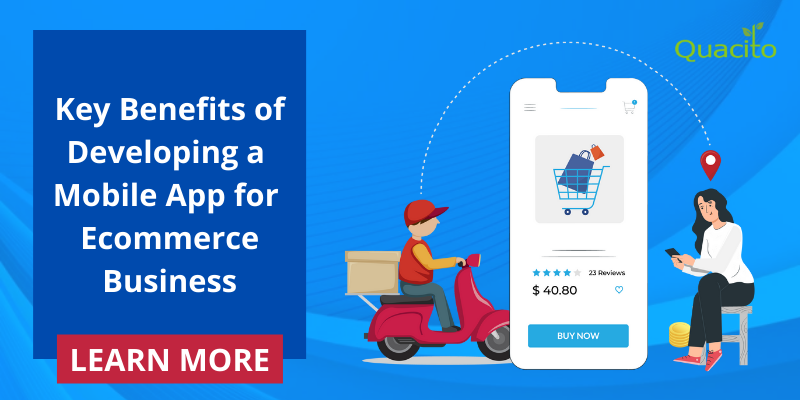 Article Name
Key Benefits of Developing a Mobile App for Ecommerce Business
Description
Do you want to know why a mobile app is important for eCommerce stores? Explore this blog and know how you can increase your sales with a mobile app.
Author
Publisher Name
Publisher Logo