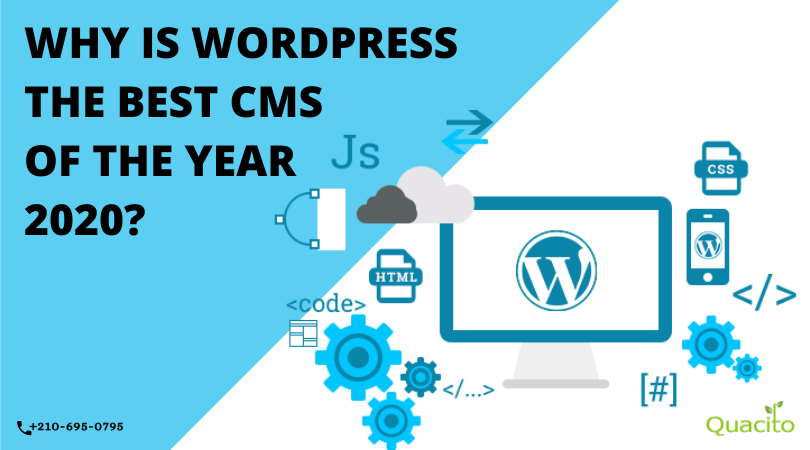 Let's start with the fun fact that WordPress actually powers 30% of all the websites out there! That is one huge percentage that can make you wonder why have you not decided to build your website on WordPress yet.
Earlier, WordPress used to be known as a blogging platform. However, now WordPress has adapted well. It has become extremely versatile. It also allows users to create fully-functional sites belonging to any category. WordPress is also open-source software. This means it is absolutely and completely free. This also means WordPress is redistributable, as well as offers unlimited validity.
Anyone providing or using WordPress development services in San Antonio, Texas, USA can vouch for WordPress being the best CMS in 2020. However, if you're someone who is weighing the option of getting into WordPress CMS development in San Antonio, Texas, USA then this blog will help you make your decision in the favor of WordPress.
Now, let's dive straight into the reasons that make WordPress the best CMS in the year 2020. Have a look at the following:
WordPress is SEO friendly:
There is a huge amount of website traffic that comes from people who are using search engines. These include Google, Bing, and Yahoo, etc! All of us know that the rankings on a search engine result page can help bring thousands of users to a website on a daily basis. This whole thing plays an important role when it comes to attracting new users. Google, as well as other search engines, have a few predefined parameters. These help them in ranking sites. WordPress is really good at handling those parameters very effectively.
WordPress gives you a benefit with SEO. This is especially with regards to on-page optimizations. WordPress handles many important elements of a website. These include precise HTML markup, content creation efficiency, SEO-beneficial permalinks, image optimization etc. On top of all this, there are many more you can add to it. Just like this, you can easily revamp the whole CMS for your particular set of needs. This is why it's beneficial to go for WordPress development services in San Antonio, Texas, USA and decide to build your website on WordPress.
WordPress provides ease of customization 
There are millions of websites all around the world, being powered by WordPress. Thanks to the platform's user interface that is simple, options that are easy-to-understand, and the functionalities that are present in the dashboard. All this makes WordPress able to be effectively used by anyone even with zero amount of coding knowledge. The power-packed themes, tools, as well as plugins, help in creating beautiful as well as dynamic websites by anyone. This increases the scope of WordPress CMS development in San Antonio, Texas, USA. 
WordPress comes with plenty of themes and plugins
Another great thing about WordPress is that it comes with many pre-built themes. Moreover, designers, as well as developers, keep coming up with new themes daily. With the increased functionality as well as SEO optimization, each website becomes dynamic as well as user-friendly. With so many options, one can make their website look however beautiful they want. In WordPress, it is very easy to find themes that are based on your needs, like eCommerce, blog, portfolio, business, and many more. 
Helps with mobile optimization
As the years go by, users who actively visit websites through their hand-held devices are increasing in number. However, there are many websites that still aren't optimized for different screen ratios as well as fast-paced loading. Fortunately, when it comes to some built-in WordPress functionalities and most of the WordPress themes, a site would be packed with mobile features which are truly right off the bat.
As long as there is a responsive WordPress theme, site design as well as image scaling, and other important features will naturally take their best shape, without any extra coding required. This would be helping the users as well as the search engines to access a website on all devices. This would lead to amazing user experience, regardless of the screen size.
The security that WordPress comes with  
Given the fact that there are way too many websites around the world that are created using WordPress, they maintain an impressively high level of security. Nevertheless, there are always loopholes that some hackers could exploit, like with any other CMS. However, WordPress is great as it regularly releases the security updates that help in protecting your website from many vulnerabilities. And we all know that there is no website owner, who would like getting hacked. Regularly updating your website to the latest WordPress version along with using themes as well as plugins that are trustworthy, you can minimize your security risks.
The endlessly growing WordPress community
There are a huge number of websites with a known CMS out there. On running surveys, it was found that almost 60% of them are using WordPress. This clearly states that the WordPress community is not something that can be fought with, anytime soon in the near future. It's only continuing to grow endlessly. On top of this, when there are new SEO features, along with improved dashboard functionality, as well as UI updates that are coming in the future, the WordPress platform will only get better and better day by day, year by year.
So, if you're finally thinking of taking that step to build your website on WordPress, and are looking for some great WordPress development services in San Antonio, Texas, USA, we can help you out.  Simply visit our website or contact us at +1-210-695-0795. 
Quacito LLC has been helping people build great websites for many years. We don't only develop your website, we develop your dreams!
Summary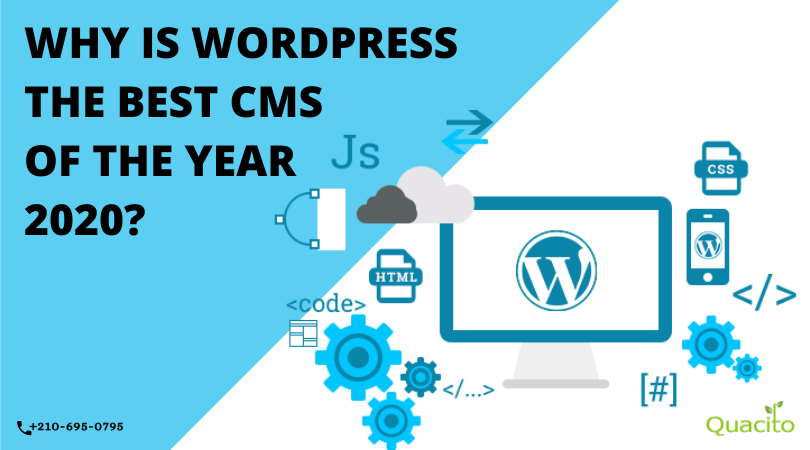 Article Name
Why is WordPress the Best CMS for the Year 2020?
Description
If you are planning to build your website on WordPress, here are some reasons why WordPress is the best for your business.
Author
Publisher Name
Publisher Logo