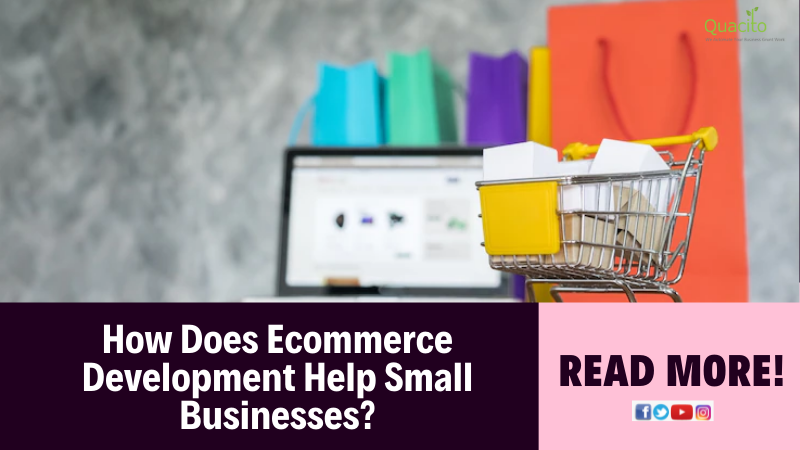 We live in an era when the internet is a necessary component of our daily life. Whether it's determining the best route to your destination or conducting research before making a purchase, the internet has it covered. There's no doubt that we're heading toward a world that is entirely reliant on the internet.
It's very important for you to grasp the effects and benefits of eCommerce to take your retail store online during COVID-19 when consumer behavior has shifted toward online shopping.
Migrating from offline to online can be difficult for someone who is not used to the internet. He may confront difficulties with technology advancement, developing online business plans, and assembling a team of pros to successfully run the company.
It becomes a seamless migration process for them with adequate guidance and assistance from skilled eCommerce consultants. It's critical for you to select consultancy services depending on your eCommerce business strategy as an online entrepreneur. This will ease the overall process, and at the same time helps you better strategize things for your company.
In this post, we are going to cover a few major benefits of running your own online eCommerce store over having a physical storefront.
Visitor Tracking and Stats
Tools like Google Analytics, SEMRush makes it extremely easy to see where visitors are finding your eCommerce website, which pages they are browsing, and from what region of the country they are hailing from. You can also use tools like Crazy Egg and Mouseflow to analyze cursor movements as people browse your online store.
It would be very difficult to get these kinds of statistics regarding customers browsing patterns or visitor traffic with a physical store.
Lower Operating Costs
It's cost-friendly to develop an eCommerce store thanks to low-cost platforms and affordable web development companies. Their services make it easy for entrepreneurs to start an online shopping store with everything from an attractive, responsive site to taking digital payments to manage inventory and shipping. 
Of course, there will be lots of details and challenges to work on during e-commerce store setup, but your upfront investment will be relatively low, as compared to setting up a physical store.
Increase Online Presence
According to studies conducted by industry professionals, the majority of shoppers tend to purchase goods online rather than in-store. While having an offline store gives customers trust and confidence but nothing beats the convenience of online shopping. About 80% of people living in America planned to do their holiday shopping through eCommerce stores like Walmart, Target, and Amazon and those numbers are continuously rising. These figures only prove that the online retail world is here to stay forever.
Even if your customers prefer to buy things in-store, they investigate prices, read reviews, and scrutinize product/services details online before placing an order. Building an eCommerce store, even if you provide plumbing or pest control services, ensures that you're not left behind by major competitors. And eCommerce development services are an additional source of sales, revenues, and conversions.
Read: Key Benefits of Developing a Mobile App for Ecommerce Business
Easier Way to Shop and Sell
Overall, e-Commerce has made the shopping process a lot easier. Not only it can be easy for you to sell as a small business owner, but the customer can also reap benefits from the simplicity and ease of online shopping this way. This simplicity can help your business, as customers tend to purchase things online before stepping into the shops. Therefore, you don't need large investments in physical stores and resources, while your customers can place an order online from the convenience of their own homes. It's truly a win-win!
Leverage Other Commercial Platforms
While the ultimate goal is to get customers directly to your business site, to begin you can access other commercial platforms to get your brand name out there. Think of popular eCommerce platforms like Amazon, Etsy, and Flipkart that enable small retailers to sell their products online. This will give an initial boost to build a brand name, trust, and familiarity with an existing customer base. Entrepreneurs can also leverage coupons and discounted deals-based commercial platforms to tap into an existing customer base and influence them to partner with you.
Search Engine Traffic
Search engines are the holy grail of internet searches. Rather than constantly pushing out marketing messages and trying to connect people to your eCommerce shop, a search engine will pair a customer's search queries with products and information that are available online.
If you go for digital marketing services that help you rank well in Google then you will receive recurring monthly organic traffic that can convert into a steady flow of incoming sales. If your product is on Amazon or Etsy, you can also get traffic from their search engine. 
Larger Marketing ROI
Just like sales, the marketing activities of offline retail stores are limited by geographical boundaries. However, with an online store, the whole world becomes your target audience. Know how? Small business owners need not have to depend solely on the local people to see their advertising messages and come to the store. They can promote their products and services worldwide and bring in domestic and international customers.
Tips for e-commerce success
Start Small
Don't get broiled down trying to create a big, high-end eCommerce website featuring hundreds of products. Start with free or affordable eCommerce development services and test thirty to seventy products to gauge customer interest while working out the kinks in your ordering and shipping process.
Test, Learn, Improve
Don't expect to be flawless with your starting efforts. Technology allows you to try things faster and economically and improve.
Be Attractive
Focus on adding attractive product images, SEO-friendly descriptions, and an easy navigation layout, so that visitors can quickly find what they're looking for and make a purchase. Also, engage visitors with fun and knowledge extras: How-to tips for products, interesting videos, and history of the company's success.
Final Thoughts
The online store is a necessity for today's small businesses. If you haven't already taken your small business online, now is the time! Build your corporate website through web design companies like QUACITO, get the right web hosting, leverage professional marketing support and in no time, you will be able to launch a strong business website with a digital presence.
Ecommerce is not the future- it is the present! Grab this opportunity right away!
Fill out the contact form to convert your ideas, transform and integrate your online marketplace. We provide highly customizable applications that provide you and your business with services to establish your presence online and increase your revenue.
Summary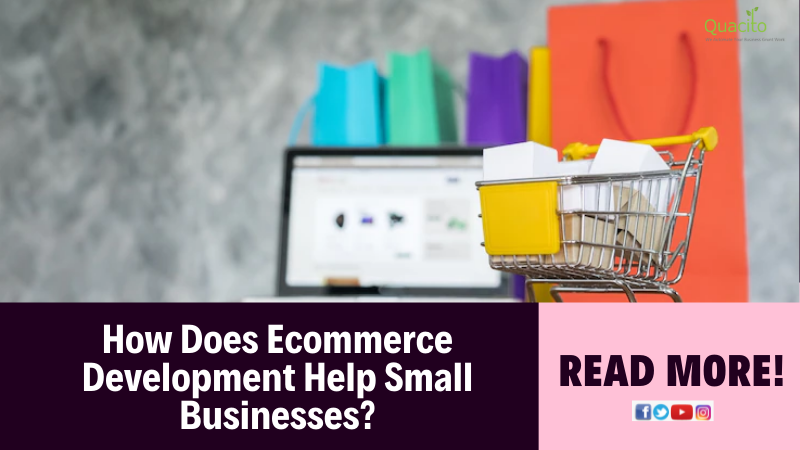 Article Name
How Does Ecommerce Development Help Small Businesses?
Description
Benefits of eCommerce for Small Businesses · Increased Business Reach · Increased Business Revenue · Search Engine Traffic · Low Operational Cost.
Author
Publisher Name
Publisher Logo